What is testicular cancer?
Testicular cancer starts in the cells of the testicle. A cancerous (malignant) tumour is a group of cancer cells that can grow into nearby tissue and destroy it. The tumour can also spread (metastasize) to other parts of the body.
The testicles are part of a man's reproductive system. They are 2 egg-shaped organs. The testicles are covered by a sac of skin called the scrotum. The scrotum hangs below the penis, between the legs. Each testicle is held in the scrotum by a spermatic cord, a bundle of nerves, ducts and blood vessels leading to and from the testicles. The spermatic cord contains the vas deferens (the duct that moves sperm from the testicle to the urethra), blood vessels, lymph vessels and nerves. The testicles make sperm. They also make a male sex hormone called testosterone.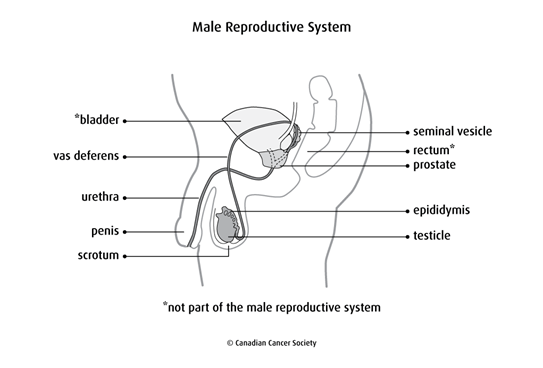 Cells in a testicle sometimes change and no longer grow or behave normally. These changes may lead to non-cancerous (benign) conditions such as epididymitis, orchitis and hydrocele. They can also lead to non-cancerous tumours such as some forms of benign sex cord stromal tumours.
Changes to cells of a testicle can also cause precancerous conditions. This means that the abnormal cells are not yet cancer, but there is a chance that they may become cancer if they aren't treated. The most common precancerous condition of the testicle is germ cell neoplasia in situ (GCNIS).
But in some cases, changes to testicle cells can cause cancer. Most often, testicular cancer starts in germ cells. These cells make sperm. These types of tumours are called germ cell tumours. The 2 main types of germ cell tumours that develop in the testicles are seminomas and non-seminomas.
Rare types of testicular cancer can also develop. These include cancerous sex cord stromal tumours and non-Hodgkin lymphoma of the testis.
Expert review and references
The testicles are part of a man's reproductive system. Learn about the anatomy and physiology of the testicle, including its structure and function.
Cancerous tumours of the testicle
Cancerous testicular tumours are growths that can spread to other parts of the body. Learn about seminoma, non-seminoma and other testicular cancers.
Precancerous condition of the testicle
Learn about a precancerous condition of the testicle, intratubular germ cell neoplasia, which is a precursor to most testicular cancers.
Non-cancerous tumours and conditions of the testicle
Learn about non-cancerous tumours of the testicle, such as benign teratoma, which are not usually life-threatening.