Dr Alison Allan: Making metastatic cancer more treatable in honour of donors and loved ones
Donating to the Canadian Cancer Society's holiday giving campaign will help fund Dr Alison Allan's research for a blood test to better detect tumour cells.
2 min. read
When you donate to the Canadian Cancer Society's Holiday Campaign, you are helping fund life-saving research and giving scientists like Dr Alison Allan the chance to make an impact on the cancer community, in honour of donors and her own family.
Motivated to make the best of CCS funding @(Model.HeadingTag)>
When Dr Allan attended the University of Guelph as an undergraduate and graduate student, she focused her early research on cell growth control in the liver and how the disruption of cell growth one can lead to liver cancer. The loss of a loved one however turned this budding interest into a lifelong passion.
I was fascinated by how intricate molecular control mechanisms that are carefully designed to keep your body healthy can go awry," says Dr Allan. "But the death of my father Tom Allan from pancreatic cancer shortly after I completed my PhD motivated me to turn this fascination into a career committed to cancer research.
Now, Dr Allan and her research team are committed to creating a special blood test that will detect where tumour cells have spread and if patients will respond to a specialized kind of radiotherapy called stereotactic ablative radiotherapy (SABR).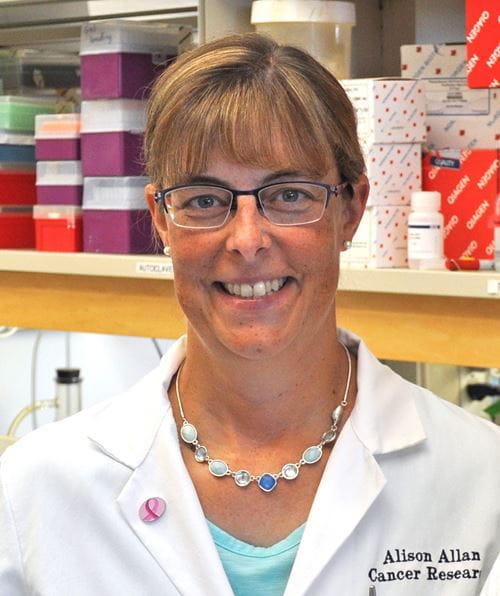 She hopes this new test will further personalize treatments for people living with oligometastic cancer - where cancer cells from the original tumour spread throughout the body form a small, distinct number of tumours in distant organs.
"Most therapies are non-curative in the metastatic setting and are instead given the goal of extending life. We believe that successful completion of our CCS-funded research has the potential to fundamentally shift the current clinical paradigm of metastasis, by defining oligometastasis as a highly treatable or even curable subset of metastatic disease."
For Dr Allan and her team, funding from the Canadian Cancer Society motivates them to make the very best use of the funding for the many Canadians who are facing the same struggles of those that they remember fondly.
When I was an undergraduate student trying to decide which direction I wanted to take my career in, my father told me 'You will spend most of the hours of your life working, so it is really important to make sure that you love what you do.' I hope that he would be proud of me and of my team's research work.
The researchers that the Canadian Cancer Society help fund know that cancer doesn't take a holiday. With your support this holiday season, they can make a long-lasting and meaningful contribution to the lives of people impacted by cancer when they need it most.