Evelyne's story: Showing the real impact of breast cancer research
After Evelyne was diagnosed with breast cancer, she used her story to raise awareness about the Daffodil Ball, to help fund cancer research across Montreal.
3 min. read
When Evelyne began noticing discharge from her right breast, she became very concerned and decided to have a mammogram. However, the results were inconclusive. Wanting to do everything she could to rule out the possibility of breast cancer, she had a second screening done a week later, as well as a breast biopsy. Then, after returning from vacation a month later, she received a message to come in to get the results of her biopsy and not to come by herself.
"At that moment, I knew," says Evelyne. I understood that the news was not good and I prepared myself for the worst."
A treatable diagnosis because of recent breast cancer research @(Model.HeadingTag)>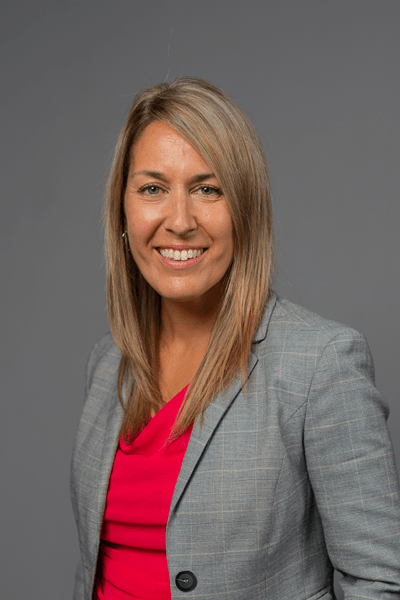 On the day of her appointment, the news she was dreading came true. Evelyne had ductal carcinoma in situ (DCIS) – the most common type of non-invasive breast cancer, where the cancer cells are in the lining of the breast duct. The news surprised Evelyne. She thought she was healthy, as she exercised regularly, made sure she ate a balanced diet and had no family history of breast cancer. Thankfully, the doctors reassured her that it was caught early and because of new research, they were confident that they could treat it effectively.
In September 2021, Evelyne underwent a mastectomy of her right breast and had an operation for the reconstruction of her breast the following December. She also had a second biopsy after her second surgery, to make sure that all the remaining cancer cells had been removed.
Then, in early 2022, Evelyne received the news that she was cancer-free! She was relieved and ecstatic that she could go back to work and begin exercising again, so she could be in the best physical shape following her procedures. But as she was getting back to her normal life, she was more determined to make an impact on the cancer cause.
A Voice for Change for the Daffodil Ball @(Model.HeadingTag)>
For 30 years, the Montreal Daffodil Ball has contributed to the Canadian Cancer Society's Daffodil Campaign – helping to fund new cancer research in Quebec.
To date, 190 researchers have been funded through the Daffodil Campaign and over the last 5 years, the Canadian Cancer Society invested $27.5 million dollars into the Canadian Cancer Trials Group.
Evelyne began fundraising for the Daffodil Ball in Montreal, hoping that others like her can continue to lead long and full lives.
"Thousands of families have their daily lives suddenly turned upside down by a cancer diagnosis. It is thanks to advances in research that the doctors knew so much about my breast cancer and treated it more effectively as a result. Your donations have a real and tangible impact on people living with cancer. I am living proof of that, and I thank you for your generosity."
She hopes her words of encouragement with the Daffodil Ball brings hope to other women across the country who feel alone on their journey.
By supporting the 2023 Daffodil Ball, more research, support and prevention programs can be funded throughout Montreal that can give people diagnosed with cancer and their loved ones the comfort they need and the hope of a brighter tomorrow.