Breast cancer starts in the cells of the breast. A cancerous (malignant) tumour is a group of cancer cells that can grow into and destroy nearby tissue. It can also spread (metastasize) to other parts of the body.
Cells in the breast sometimes change and no longer grow or behave normally. These changes may lead to non-cancerous (benign) breast conditions such as atypical hyperplasia and cysts. They can also lead to non-cancerous tumours such as intraductal papillomas.
But in some cases, changes to breast cells can cause breast cancer. Most often, breast cancer starts in cells that line the ducts, which are the tubes that carry milk from the glands to the nipple. This type of breast cancer is called ductal carcinoma. Cancer can also start in the cells of the lobules, which are the groups of glands that make milk. This type of cancer is called lobular carcinoma. Both ductal carcinoma and lobular carcinoma can be in situ, which means that the cancer is still where it started and has not grown into surrounding tissues. They can also be invasive, which means they have grown into surrounding tissues.
Less common types of breast cancer can also develop. These include inflammatory breast cancer, Paget disease of the breast and triple negative breast cancer. Rare types of breast cancer include non-Hodgkin lymphoma and soft tissue sarcoma.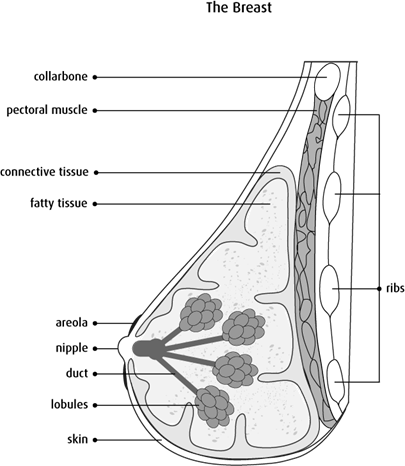 Expert review and references
Foxson SB, Lattimer JG & Felder B . Breast cancer. Yarbro, CH, Wujcki D, & Holmes Gobel B. (eds.). Cancer Nursing: Principles and Practice. 7th ed. Sudbury, MA: Jones and Bartlett; 2011: 48: pp. 1091-1145.

Martini FH, Timmons MJ, Tallitsch RB. Human Anatomy. 7th ed. San Francisco: Pearson Benjamin Cummings; 2012.

Morrow M, Burstein HJ, and Harris JR . Malignant tumors of the breast. DeVita VT Jr, Lawrence TS, & Rosenberg SA. Cancer: Principles and Practice of Oncology. 10th ed. Philadelphia: Wolters Kluwer Health/Lippincott Williams & Wilkins; 2015: 79: 1117-1156.
Learn about the anatomy and physiology of the breast, including the structure, lymph nodes, development, hormones and function of the breast.
Cancerous tumours of the breast
Malignant tumours of the breast are cancerous growths that have the potential to spread (metastasize) to other parts of the body.
Breast cancer in men is rare, making up less than 1% of all breast cancers.
Breast calcifications are deposits of calcium in the breast tissue. Most are not associated with breast cancer. Learn about the 2 types of calcifications.
Non-cancerous tumours of the breast
Learn about benign tumours of the breast – non-cancerous growths that do not spread to other parts of the body and are not usually life-threatening.
Non-cancerous conditions of the breast
Learn about benign (non-cancerous) conditions of the breast, such as breast cysts, which are not related to breast cancer and usually not life-threatening.