A woman shares the challenges of navigating cancer during COVID-19
A two-time breast cancer survivor shares her experience as someone affected by cancer during the COVID-19 pandemic
4 min. read
On March 11, 2020, the World Health Organization declared COVID-19 a pandemic. Today in Canada and across the globe, people are facing the challenges that COVID-19 has brought into their lives. For Dianne and the more than 1 million Canadians living with or beyond cancer, this time of heightened health concern can have an even greater impact on their day-to-day lives.
In early March when Dianne's husband flew out of the country for a business trip, she was worried that he would contract the disease. Dianne is a two-time breast cancer survivor currently receiving follow-up treatment. Understanding that certain cancer treatments can weaken the immune system and make it more difficult for the body to fight infections, she knew she was at a higher risk for more serious outcomes if she contracted COVID-19. When her husband returned, they both went into self-isolation. While he didn't show any symptoms and appeared to be healthy, Dianne found herself sick with the common cold.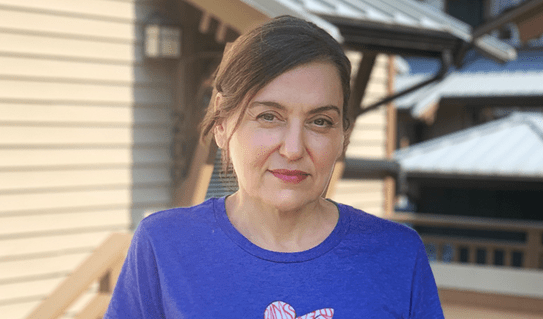 Navigating disruptions in her care plan @(Model.HeadingTag)>
Dianne's doctor advised her not to come in for appointments until she was clear of cold symptoms for a few weeks. As a result, she was unable to get her scheduled hormonal therapy treatment for breast cancer. Although her healthcare team was concerned about her treatment being delayed, they couldn't send a nurse to Dianne's home to give the injection since her husband had recently travelled.
"The longer COVID-19 lasts, the more surgeries and treatments become backed up. There are people who have been on healthcare wait lists for years and now have to wait even longer – it becomes a ripple effect," says Dianne. "People with cancer are really suffering from all these new complexities to our lives as a result of the pandemic that most people may not be aware of."
Managing layers of vulnerability @(Model.HeadingTag)>
In addition to coping with the stress and anxiety of postponed or cancelled treatments, some people with cancer are finding themselves in the position where they have to educate others about the health risks they face. At a time when they may already feel lonely or isolated, this additional burden can be mentally draining.
"Suddenly we're put in this position to have to speak out for ourselves. We're having to call out friends and family and say, 'Please stay home for people like me – I'm at greater risk,'" says Dianne.
At the Canadian Cancer Society, we share in Dianne's determination to speak up about the impact of COVID-19 on cancer care while continuing to be there for Canadians who need us during these unprecedented times. She's not alone in her efforts to raise awareness about the challenges people affected by cancer face.
"We have layers of vulnerability that we live with and wrestle with every day. COVID-19 adds another level to what we're already coping with," says Dianne.
Doing our part to support those who need it most @(Model.HeadingTag)>
Right now, it is more important than ever for Canadians to come together and support those affected by cancer. Doing our part by practising physical distancing and staying home is vital to protecting people with cancer and other vulnerable members of our community.
During this difficult time, people with cancer may be feeling especially anxious, lonely, or isolated. There are many ways you can support a friend or loved one with cancer – and reaching out to them is often a good place to start.
"Reach out and ask, 'How are you? Do you need anything? How can I help you?' Having a sense of curiosity and openness and being willing to understand what we're experiencing right now can mean a lot," shares Dianne.
---
We need your support – now more than ever – to help those affected by cancer like Dianne.
During the pandemic, our online and telephone support programs are critical in helping people with cancer and their caregivers reduce anxiety and manage feelings of isolation. These resources can help alleviate strain on the publicly available information phone lines that are facing long wait times and an increase in demand due to COVID-19.
Since the outbreak began, there has been significant demand for our live chat services, toll-free Cancer Information Helpline and peer support services, like CancerConnection.ca. These programs help people find community and connection from the comfort and safety of their own home.
When you donate to our COVID-19 Emergency Fund, you help us continue to provide these programs and ensure that those affected by cancer receive the support, comfort, compassion, and care that they need – now and all year round.
Together, we can make a difference.
Update: As of April 2020, Dianne has been able to receive her breast cancer follow-up treatment.