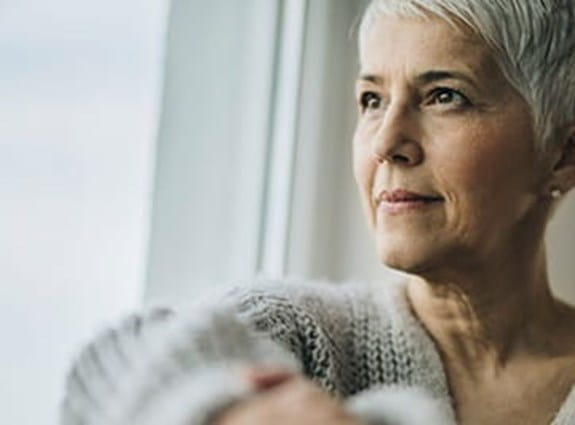 Coping with cancer and COVID-19
Right now, everyone is facing the stress and anxiety that COVID-19 has brought into our lives. We don't know what's going to happen in the future, the information about the virus is changing all the time, and many of us feel helpless as we watch what is happening in our families, in our communities and around the world. It's a scary and unfamiliar place to be.
If you or someone you care about has cancer, that's a lot to worry about. But with the added stress of COVID-19, you may be having a lot of other feelings as well. It is normal to have strong feelings at this time. Here are some of the ways you might be feeling, and below we offer suggestions for coping.
Fear: Cancer is an underlying medical condition. That means that you are at a higher risk for more serious complications of COVID-19. So it's natural to fear getting the disease. You may also fear that your cancer treatment will be delayed.
Anxiety: You may feel anxious about COVID-19 and how it will affect your life. Will you be able to get to the treatment centre safely? Will tests still be available to show how your treatment is working?
Loneliness and isolation: The Public Health Agency of Canada recommends that everyone should practise physical distancing to help reduce the spread of COVID-19. Many people with cancer already avoid crowds and stay home because their cancer treatments weaken their immune system. But with COVID-19, no visitors are allowed, so you may feel even more alone and isolated than before.
Anger: Being diagnosed with cancer is hard. Dealing with COVID-19 concerns on top of that may make you feel angry at everything right now.
Grief: COVID-19 can cause feelings of grief. You might grieve for people who have caught the virus. Or you may grieve your loss of routine or your feelings of safety and security in the world.
Suggestions for coping @(Model.HeadingTag)>
You have already been dealing with cancer. Think about the ways you've coped with this and other challenges in your life. You can use those experiences to help you deal with COVID-19. Or try some of these tips to help you cope.
Reach out to connect with people. Even though physical contact is limited right now, you can still find ways to talk to people and share your feelings. Try social networking through video calls or chats. Connect with online support groups for people with cancer, such as our online community, CancerConnection.ca. It's amazing the strength you can feel when you connect with others.
Focus on what you can control. Looking at what is happening in the world can make you feel helpless. And this can drain your energy and take your attention away from what you can control. Think about what you can do, rather than what you can't. Following a daily routine can help – for example, getting up at the same time every day. You can also control keeping yourself as healthy as possible by practising physical distancing and washing your hands frequently. And you can set limits on the amount of COVID-19 news that you take in each day.
Talk to your cancer treatment team. They can keep you up to date on how COVID-19 is affecting your cancer treatment centre and your treatment plan. They can also discuss any risks for you based on your treatment history. It can help to write down some important questions to ask or call our Cancer Information Helpline (details below) before you contact them.
Unfortunately, some of your cancer team may be moved to other roles in the hospital to help with COVID-19 patients. You may find it takes longer to talk to someone on your team. Some cancer treatment centres offer options like video chat, especially for follow-up appointments. If you are having problems coping, let them know. They can help you find different types of support.
Talk to a professional counsellor. They can help you and your family understand and cope with feelings, thoughts and worries. Many counselling sessions can be done on video chat or by telephone. Counselling may be available at your local cancer centre or hospital. Some employers may cover private counselling through employee assistance programs or health insurance.
Be as physically active as you can. Try an online fitness or yoga class. Go outside for short walks but stay away from groups and keep physical distance from others. A change of scenery and fresh air can help you feel a bit better. Even taking time to do some simple stretching or movement helps your body feel looser and your mind more at ease.
Eat well. It's really tempting to eat lots of comfort food while we're practising self-isolation at home. The occasional treat is fine, but don't overdo it. If you can, try to eat a variety of healthy foods, including vegetables and fruit, protein and grains. Eating well-balanced meals can help you feel better and stay healthier. You may also find that cooking a good meal or trying new recipes can be calming.
Try meditation and other relaxation techniques. These can help lessen anxiety, stress and anger, allowing you to feel calmer and more in control of what's happening in your life and around you. For guided meditations, try a meditation app or CD or follow an online class.
Look for hope. Hope is a feeling of wanting something to happen. Some people may find it easier to be hopeful that the world will eventually recover from COVID-19. They find inspiration in the stories of recovery and of healthcare professionals and others working to keep our world as normal as possible. Others may find hope in everyday acts of kindness and a sense of community spirit.
Find humour even in tough times. Some people find that laughter helps them in times of stress and anxiety. It's OK to laugh. It doesn't mean you're not taking things seriously. Laughing releases chemicals from our brains that make us feel good. Watching a funny video or movie, playing games or calling a friend to tell them something silly that just happened just might make you feel better.
There are resources available to support you during this difficult time. We are here for you.
Resources from the Canadian Cancer Society @(Model.HeadingTag)>
The Canadian Cancer Society is continuing to provide programs for people with cancer and caregivers that can be helpful if you are staying close to home or dealing with feelings of anxiety or isolation.
Cancer Information Helpline is our national, toll-free helpline for people with cancer, caregivers, families and friends, the general public and healthcare professionals. Contact us or call us at 1-888-939-3333.
CancerConnection.ca is our online community where people with cancer and their loved ones can share their experiences and build supportive relationships.
Extensive expert information about cancer and COVID-19 is also available on our website and from our series of webinars on COVID-19 for cancer patients.


There are many organizations across the country that offer programs and services to support cancer patients and their caregivers. Many are now being offered online. Search for local or national resources that you can access from home in the Canadian Cancer Society's Community Services Locator. Please be sure to contact the service to make sure a program is available or to find out what might be newly available online.
If you are in distress, please contact:
If it is an emergency, call 9-1-1.