Results of the November 2020 Emerging Scholar Awards Competition
We are pleased to announce the results of the inaugural round of the Emerging Scholar Awards (ESA) competition. Launched in December 2019, the ESA program aims to establish and advance promising early career scientists and clinician scientists from across Canada with a focused commitment to undertaking cancer research.
39 Letters of Intent were submitted to the competition. Following a scientific review, 25 were invited to submit full applications. 20 eligible full applications were received and evaluated by a review panel comprised of scientific reviewers and patient/survivor/caregiver representatives. 15 grants have been approved for funding – 75% of all full applications received – representing a total investment of more than $8.5 million. Each grant is valued at up to $600,000 over a 5-year term.
Geographical breakdown @(Model.HeadingTag)>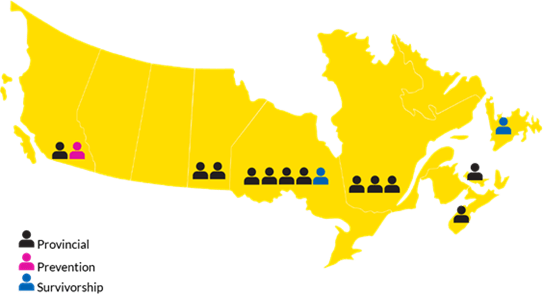 Investment by research area @(Model.HeadingTag)>
Investment by cancer type @(Model.HeadingTag)>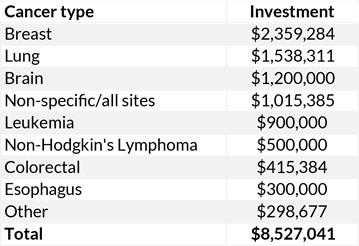 Competition results by self reported pronouns @(Model.HeadingTag)>

Abstracts of ESA projects @(Model.HeadingTag)>
Please note:
Amounts listed below represent the total dollars awarded and may include funds for salaries, supplies, equipment, professional development and/or teaching/clinical buy-out time.
The start date for these grants is May 1, 2021.
Only the Principal Investigator is named in this listing. Co-Applicants and/or Additional Authors may also be associated with these grants.
Below is a list of newly awarded ESA grants.
Note Carefully:
Although every effort has been made to ensure the accuracy of the listing below, this list does not constitute an "official" notification.
Successful applicants have been informed, in writing, with an official Notification of Award giving the details pertaining to their grant.
Applicant
Institution
Title
Ahmed, Marya
University of Prince Edward Island
Dual targeting strategy for breast cancer
2021/2022 : $120,000
2022/2023 : $120,000
2023/2024 : $120,000
2024/2025 : $120,000
2025/2026 : $120,000
Burnier, Julia
The Research Institute of the McGill University Health Centre (RI MUHC)
Defining the mechanisms of DNA release from cancer cells and their impact on the clinical utility of liquid biopsy
2021/2022 : $120,000
2022/2023 : $120,000
2023/2024 : $120,000
2024/2025 : $120,000
2025/2026 : $120,000
del Rincon, Sonia
Jewish General Hospital
Examining the MNK1/2 eIF4E axis in cancer associated fibroblasts as a driver of oncogenic progression
2021/2022 : $99,800
2022/2023 : $99,800
2023/2024 : $99,800
2024/2025 : $99,800
2025/2026 : $99,800
Garland, Sheila*
Memorial University
Development and evaluation of the iCANSleep app for insomnia in cancer survivors
2021/2022 : $120,000
2022/2023 : $120,000
2023/2024 : $115,050
2024/2025 : $123,550
2025/2026 : $121,400
Gujar, Shashi
Dalhousie University
Kynurenine metabolic pathway: implications for oncolytic virus based cancer immunotherapy
2021/2022 : $120,000
2022/2023 : $120,000
2023/2024 : $120,000
2024/2025 : $120,000
2025/2026 : $120,000
Jones, Courtney
Princess Margaret Cancer Centre UHN
Amino acid metabolism in relapsed acute myeloid leukemia stem cells
2021/2022 : $120,000
2022/2023 : $120,000
2023/2024 : $120,000
2024/2025 : $120,000
2025/2026 : $120,000
Khademi, April
Ryerson University
Augmenting breast pathology workflows for improved cancer care
2021/2022 : $120,000
2022/2023 : $120,000
2023/2024 : $120,000
2024/2025 : $120,000
2025/2026 : $120,000
Klein Geltink, Ramon
University of British Columbia
Metabolic conditioning of T cells for immunotherapy of cancer
2021/2022 : $120,000
2022/2023 : $120,000
2023/2024 : $120,000
2024/2025 : $120,000
2025/2026 : $120,000
Kridel, Robert
Princess Margaret Cancer Centre UHN
Rational design of combination therapies for B cell lymphoma
2021/2022 : $100,000
2022/2023 : $100,000
2023/2024 : $100,000
2024/2025 : $100,000
2025/2026 : $100,000
Mahar, Alyson
University of Manitoba
Measuring Equity and Generating ActioN in CANcer: using research to promote equitable care delivery across Canada (MEGAN CAN)
2021/2022 : $99,968
2022/2023 : $91,740
2023/2024 : $108,829
2024/2025 : $91,116
2025/2026 : $69,884
Ramaswamy, Vijay
The Hospital for Sick Children
Personalizing therapy in high risk childhood ependymoma
2021/2022 : $120,000
2022/2023 : $117,000
2023/2024 : $123,000
2024/2025 : $120,000
2025/2026 : $120,000
Sharif, Tanveer
University of Manitoba
Effect of standard chemoradiotherapy interventions on metabolism and stemness in glioblastoma
2021/2022 : $120,000
2022/2023 : $120,000
2023/2024 : $120,000
2024/2025 : $120,000
2025/2026 : $120,000
Sinnarajah, Aynharan*
Queen's University
Improving cancer survivors' access to timely palliative care: validating and building triggers in the electronic medical record using real world evidence
2021/2022 : $119,925
2022/2023 : $119,782
2023/2024 : $119,129
2024/2025 : $119,122
2025/2026 : $119,397
Struik, Laura**
University of British Columbia
Modernizing approaches to tobacco use for the next millennium
2021/2022 : $78,950
2022/2023 : $92,450
2023/2024 : $116,450
2024/2025 : $116,450
2025/2026 : $119,950
Tai, Lee Hwa
Université de Sherbrooke
Improving autologous cancer cell vaccines for triple negative breast cancer
2021/2022 : $108,900
2022/2023 : $109,000
2023/2024 : $109,000
2024/2025 : $109,000
2025/2026 : $109,000
*Emerging Scholar Award (Survivorship) **Emerging Scholar Award (Prevention)
Last modified on: April 22, 2021