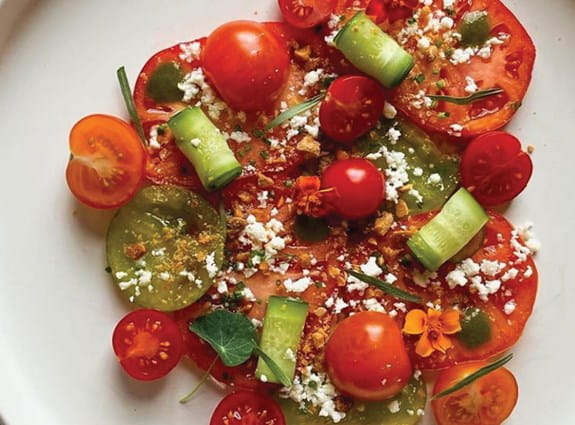 Tomato salad with cucumbers, toasted almonds, lemon ricotta and chermoula
This salad is most delicious in August when tomatoes are in their prime season in Ontario. Make sure your tomatoes are at room temperature to get the most flavour as well. This balanced dish provides freshness with the raw vegetables but the ability to be altered for desired flavouring and seasoning. You can season your housemade ricotta to your preference, as well as adding more almonds or sauce. It has lots of contrast with textures and flavours. Enjoy!

Recipe by Chef Katie Ardington @(Model.HeadingTag)>
Location: Ottawa, ON
Servings: 4 people
Preparation time: 20 - 60 minutes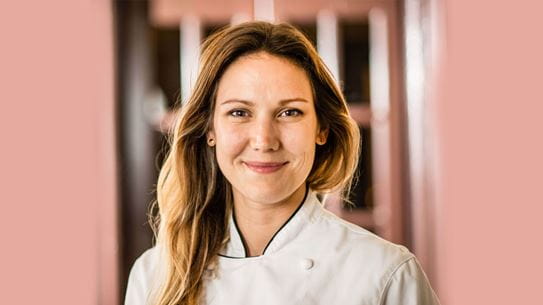 Ingredients @(Model.HeadingTag)>
Salad
3 large Heirloom Tomatoes
1 pint cherry Tomatoes
1 whole English or Field Cucumber
1/2 cup toasted almonds – chopped by hand or put in food processor for finer texture
Fresh chives, tarragon or edible flowers for garnish
Chermoula (Recipe yield amount: 1 cup)
2 tsp cumin seeds
1 1/2 cups chopped cilantro (cleaned and stemmed)
1 cup chopped parsley
2 tbsp chopped mint
Juice and zest of 3 lemons
3 garlic cloves - peeled
1 tsp chili flakes
1/2 cup olive oil
Salt and pepper to taste
Lemon Ricotta
1 tub ricotta
Lemon juice, to taste
Preparation @(Model.HeadingTag)>
Chermoula
In a small skillet, toast the cumin and coriander seeds over low heat, shaking the pan occasionally, until fragrant, about 2 minutes. Transfer to a spice grinder and let cool. Pulse until finely ground. A KitchenAid® Coffee and Spice Grinder can make this step easy, while simplifying other cooking tasks.
In a food processor, combine the ground seeds with the cilantro, parsley, mint, lemon juice and zest, garlic, chili flakes. Pulse until a coarse paste forms. With the processor running, drizzle in the olive oil in a slow, steady stream. Scrape the chermoula into a medium bowl and season with salt and pepper. A KitchenAid® Stand Mixer with Food Processor Attachment can simplify this process.
Lemon Ricotta
Mix ricotta with lemon juice to taste, or make homemade ricotta.
Salad
Slice Heirloom tomatoes and cherry tomatoes. Season with salt and pepper if desired. Spoon chermoula onto plates, arrange sliced tomatoes on top. Curl cucumber into rolls using a mandolin or vegetable peeler or slice on top. Sprinkle almonds over top of vegetables and then alternating with lemon ricotta on top as well. Garnish with edible flowers or fresh herbs. Enjoy!!