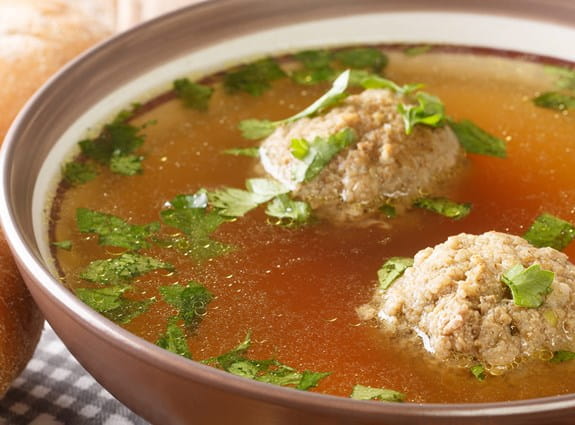 Root vegetable soup
This hearty soup with meatballs is easy to eat and very filling if you're looking for foods high in calories and protein. It can be frozen, then simply reheated when you don't have a lot of energy to cook.
Recipe by: Hélène Sauvé, caregiver
Ingredients @(Model.HeadingTag)>
Soup
2 tbsp butter
1 medium onion, chopped
1 tsp salt, divided
2 medium turnips, peeled and chopped
2 sweet potatoes, peeled and chopped
4 medium parsnips, peeled and chopped
5 cups low-sodium chicken broth
1 cup water
Meatballs
1/2 lb ground pork or lean ground beef
1 tbsp minced chives, plus more for garnish
1 tbsp minced flat-leaf parsley
3 tbsp finely grated asiago, parmesan or pecorino cheese
1/4 tsp freshly ground black pepper
Preparation @(Model.HeadingTag)>
Soup
Melt the butter in a medium pot over medium-high heat.
Add the onion and 1/2 tsp of salt.
Cook, stirring, until soft, about 2 minutes.
Add the turnips, sweet potatoes, parsnips, broth and water. Bring to a boil, then reduce the heat to medium-low and simmer until the vegetables are tender, 10 to 15 minutes.
Process the soup in a blender until smooth (in batches if necessary). Return to the pot and keep warm over low heat.
Meatballs
Combine the pork or beef, chives, parsley, cheese, 1/2 tsp of salt and the pepper in a small bowl.
Mix gently to combine. Form into 36 balls, about 1 tsp each, and set aside.
In a wide, shallow pan, bring at least 2 in of water to a boil.
Add meatballs and cook until they float to the surface and are cooked through (test one to be sure), about 4 minutes. Transfer to a warm plate with a slotted spoon.
Divide the soup among 6 bowls. Top each bowl with 6 meatballs and sprinkle with chives and pepper. Serve hot.
Nutrition facts @(Model.HeadingTag)>
Per serving
Calories: 262
Fat: 11 grams
Carbohydrates: 25 grams
Fibre: 4 grams
Protein: 17 grams