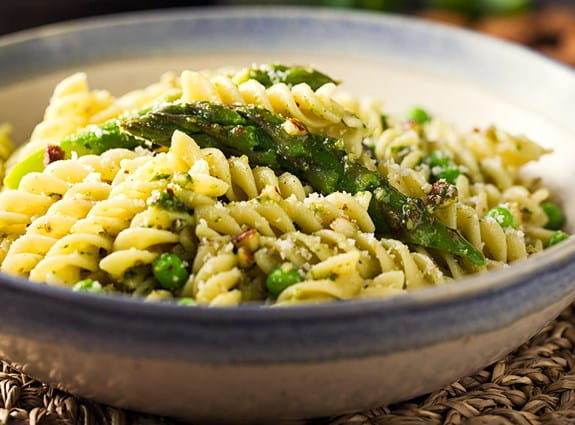 Pasta with roasted asparagus and almond pesto
Here's a vegetarian recipe – comfort food made with healthy oils to help maintain a healthy body weight. You could also use half whole wheat and half regular spaghetti instead of linguine. This recipe can be doubled. The sauce can be served on any type of pasta or on salmon.
Recipe by: Kari Simpson, caregiver
Photo by: ELLICSR Kitchen
Ingredients @(Model.HeadingTag)>
3/4 tsp kosher salt, divided
1/2 lb (about 15 spears) asparagus, trimmed
2 cups grape tomatoes
4 tbsp extra virgin olive oil, divided
1/2 cup sliced almonds
1/4 cup fresh basil leaves
2 tbsp finely grated parmesan cheese
1 lb dried linguine
pepper

Preparation @(Model.HeadingTag)>
Position racks in the upper and lower thirds of the oven and heat the oven to 425°F (220°C).
Bring a large pot of salted water to a boil over high heat.

Arrange the asparagus in a single layer on half of a large, rimmed baking sheet. Arrange the tomatoes on the other half of the sheet.
Drizzle both with 1 tbsp of olive oil and season with 1/4 tsp of salt. Toss to coat. Roast on the top rack until the tomatoes have collapsed and the asparagus is bright green – about 20 minutes.
While the vegetables roast, put the almonds on another rimmed baking sheet and toast on the bottom rack, stirring occasionally for 10 to 12 minutes. Reserve 1 tsp of the almonds for garnish and put the remaining almonds in a food processor or blender.

Remove the tips from the asparagus and set aside. Put the rest of the asparagus (the stems), the basil, cheese, 1/2 tsp of salt and the remaining 3 tbsp of olive oil into the blender. Pulse until a coarse paste form. Season to taste with salt and pepper, and transfer to a large serving bowl.
Boil and drain the pasta and reserve 1/2 cup of the cooking water. Add the pasta to the pesto and toss to coat. If necessary, add some of the reserved cooking water to loosen the pesto to a saucy consistency.

Nutrition facts @(Model.HeadingTag)>
Per serving
Calories: 436
Fat: 15 grams
Carbohydrates: 62 grams
Fibre: 5 grams
Protein: 14 grams