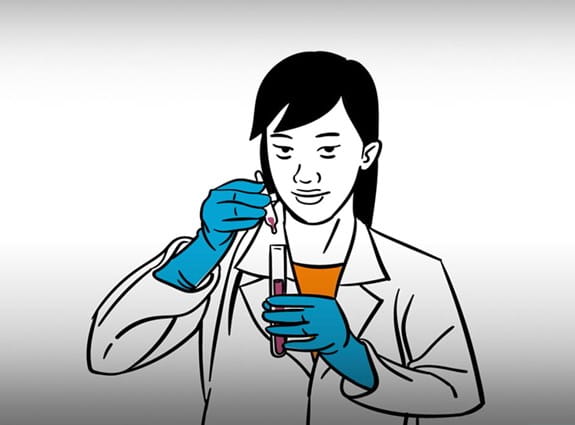 What is immunotherapy?
Cancer can be hard to understand and stressful to cope with. These short, animated videos on cancer-related topics present information that is simple, straightforward and sympathetic.
The Cancer Basics video series is proudly sponsored by BMO.
2 min. read
This video explains a type of cancer treatment that helps your immune system fight cancer.
What is immunotherapy?
Voice-over: Immunotherapy is a treatment that helps the immune system fight cancer. Unlike other treatments that target cancer cells directly, immunotherapy works by boosting the immune system or helping it find and kill cancer cells. Immunotherapy works better for some cancers than others. It is a standard treatment for certain types of cancer, and it's being studied in clinical trials to see if it might be effective for many other types of cancer.

The immune system is your body's natural defence system. It's made up of organs, tissues, and cells that work together to fight off infections and diseases. The immune system is designed to tell the difference between your own healthy cells and abnormal cells, like cancer. When immune cells find an abnormal cell in your body, the immune system responds to it, usually by removing those cells.

But the immune system doesn't always work the way it should. Some cancer cells can hide from the immune system by making themselves seem like normal cells. And sometimes the immune system finds cancer cells, but it isn't strong enough to destroy them.

There are different types of immunotherapy drugs. Some make the immune system work harder. Others help the immune system find cancer cells more easily. Immunotherapy drugs are usually given through a needle in a vein.

You can experience side effects from immunotherapy. Serious side effects can occur. But for many people, the side effects are mild. That's because immunotherapy is less likely than other cancer treatments to affect healthy cells. Everyone experiences side effects differently.

To find out more about immunotherapy and if it may be an option for you, talk to your doctor.

The Canadian Cancer Society is also here to help. Visit cancer.ca or call us at 1-888-939-3333.



[[draft descriptive text from Anne Nice or Stef Bradley, 2019, found in another .txt file with other master files – the formatting is odd, but some description might be a good starting point]]



(DESCRIPTION)

Logo, Canadian Cancer Society. Title, Cancer Basics Series.



(SPEECH)

SPEAKER: What is immunotherapy?



(DESCRIPTION)

Outline of body



(SPEECH)

Immunotherapy is a treatment that helps the immune system fight cancer.



(DESCRIPTION)

Cluster of blue circles in chest. Three large circles pulse around the perimeter of the cluster.



(SPEECH)

Unlike other treatments that target cancer cells directly, immunotherapy works by boosting the immune system or helping it find and kill cancer cells.



(DESCRIPTION)

Outline of body turns dotted orange



Three individuals in lab coats look at files



(SPEECH)

Immunotherapy works better for some cancers than others. It is a standard treatment for certain types of cancer, and it's being studied in clinical trials to see if it might be effective for many other types of cancer.



(DESCRIPTION)

Scientist holds test tube and dropper



(SPEECH)

The immune system is your body's natural defence system.



(DESCRIPTION)

Outline of body



(SPEECH)

It's made up of organs, tissues, and cells that work together to fight off infections and diseases.



(DESCRIPTION)

Inside body, green spiky balls float. Yellow and orange circles pass by them



(SPEECH)

The immune system is designed to tell the difference between your own healthy cells and abnormal cells, like cancer.



(DESCRIPTION)

Blue oblong shape approaches



(SPEECH)

When immune cells find an abnormal cell in your body, the immune system responds to it, usually by removing those cells.



(DESCRIPTION)

Three green spiky balls rush to blue cell and cover it



(SPEECH)

But the immune system doesn't always work the way it should.



(DESCRIPTION)

Blue cell with yellow outline approaches



(SPEECH)

Some cancer cells can hide from the immune system by making themselves seem like normal cells.



(DESCRIPTION)

Inside of blue cell turns yellow



(SPEECH)

And sometimes the immune system finds cancer cells, but it isn't strong enough to destroy them.



(DESCRIPTION)

Four green balls surround disguised cancer cell but do not cover it.



(SPEECH)

There are different types of immunotherapy drugs.



(DESCRIPTION)

Four maroon squares join green spiky circles



(SPEECH)

Some make the immune system work harder.



(DESCRIPTION)

green circles flash brighter



(SPEECH)

Others help the immune system find cancer cells more easily.



(DESCRIPTION)

Squares enter oval cell and it turns blue



(SPEECH)

Immunotherapy drugs are usually given through a needle in a vein.



(DESCRIPTION)

Person in chair next to IV stand. Man in scrubs holds file.



(SPEECH)

You can experience side effects from immunotherapy. Serious side effects can occur. But for many people, the side effects are mild.



(DESCRIPTION)

Couple riding bikes



(SPEECH)

That's because immunotherapy is less likely than other cancer treatments to affect healthy cells.


(DESCRIPTION)

Doctor hands person a brochure


(SPEECH)

Everyone experiences side effects differently.

To find out more about immunotherapy and if it may be an option for you, talk to your doctor. The Canadian Cancer Society is also here to help. Visit cancer.ca or call us at 1-888-939-3333.


(DESCRIPTION)

Logo, Canadian Cancer Society. The Cancer Basics Series is proudly supported by B.M.O