Raising the bar to fundraise for the CIBC Run for the Cure
A CIBC employee continues to strengthen his fundraising efforts for the CIBC Run for the Cure every year.
3 min. read
Jeff Timmons signed up for the Canadian Cancer Society CIBC Run for the Cure to see if he could run 5 kilometres. But after an emotional conversation with a close friend about her breast cancer journey, Jeff realized the CIBC Run for the Cure is more than a run. Sixteen years later, he is still running.
"It's hard to describe, but while I ran, I saw family and friends coming together to support each other, running in memory or running as a team to support colleagues," says Jeff. "It was a very emotional experience, and it made the Run much more impactful. Prior to the Run, I wasn't aware how breast cancer had impacted so many Canadians. It was an eye-opening experience.
Empowered by the stories he heard from people on their cancer journey, Jeff felt motivated to continue participating in the CIBC Run for the Cure.
Raising the bar to fundraise @(Model.HeadingTag)>
Jeff didn't fundraise his first year. The following two years, he asked some friends and family to donate to his Run campaign. It was during his fifth year of participating that he wanted to raise the bar for his fundraising.
After asking one of his friends to donate, they told Jeff that they would donate but only if he would run in a pink dress. Jeff accepted the challenge gladly and found the dress with the biggest frills he could find. He then made it a fundraising milestone – telling friends and family that if he was able to hit his fundraising goal, he would run in the dress. He exceeded his goal.
Jeff continued to wear the dress for another year and was motivated to continue raising funds for a future without breast cancer. To go to the next level, he joined a group that was climbing the world's tallest free-standing mountain, Mount Kilimanjaro, to fundraise for people affected by breast cancer.
Climbing Mount Kilimanjaro  @(Model.HeadingTag)>
I thought to myself, 'Wow. Now that's an amazing challenge and would definitely motivate me with my new healthy lifestyle.' I polled my friends and asked if climbing would be a big enough challenge to make them donate and they immediately agreed to do so.
In 2013, Jeff raised over $7,000 for the breast cancer cause during a climb of Mount Kilimanjaro. It took him 7 days to reach the top but he was nowhere near to being done.
The following year, Jeff formed his own climbing team, bringing 15 friends and colleagues to the top of Mount Kilimanjaro and in the process raised over $111,000.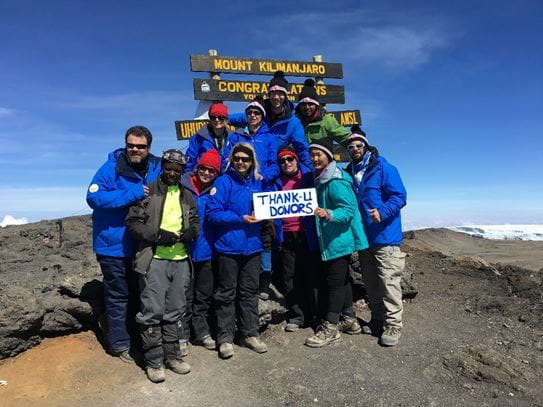 Join Jeff this October @(Model.HeadingTag)>
What started as a simple activity to enjoy a 5-kilometre run, became something incredibly powerful for Jeff. He began with no direct connection to breast cancer but Jeff says that shouldn't be a factor to raising funds and participating in the CIBC Run for the Cure.
If you're participating for the first time and don't have a connection to the cause, that's totally okay. By just attending the event you're showing your support in raising awareness for the breast cancer cause. You'll quickly see how supportive, friendly, inspiring, and fun the event is, which will most likely drive you to attend for many more years to come.
Since 1992, the Canadian Cancer Society CIBC Run for the Cure has given hope to Canadians impacted by breast cancer, by raising funds and investing in groundbreaking research, compassionate support services, trusted cancer information and advocacy.
Along with thousands of others across Canada, Jeff is doing everything possible to create a world without breast cancer. By joining Jeff and signing up and fundraising for the Run, you are showing the 1 in 8 women who will be diagnosed with breast cancer in their lifetime, that they do not need to face it alone. Join us on Sunday, October 1, 2023.