Meet 2 scientists advancing diversity and inclusion in cancer research
Learn how Dr Caron and Dr Daniel are making the cancer research community more equitable, diverse and inclusive through their work.
4 min. read
With nearly half of Canadians expected to face a cancer diagnosis in their lifetime, cancer affects us all and it's critical that research reflects the strength of diverse populations across Canada. We know representation and inclusiveness in research – in the people who fund it, lead it and take part in it – help drive more impact and innovation that benefits everyone.
Through the annual Canadian Cancer Society Awards for Excellence in cancer research, we recognize exceptional Canadian researchers and their work to transform the future of cancer. New this year, we proudly introduced the first-ever Inclusive Excellence Prize to honour individuals who have demonstrated leadership in advancing equity, diversity and inclusion in Canadian cancer research.
We invited Dr Nadine Caron and Dr Juliet Daniel, the co-recipients of the inaugural Inclusive Excellence Prize, to share the motivation behind their work and how the research landscape is evolving.
Dr Nadine Caron: making cancer research and care more equitable and inclusive for Indigenous peoples in Canada @(Model.HeadingTag)>
A surgeon, researcher and teacher, Dr Nadine Caron became the inaugural First Nations Health Authority Chair in Cancer and Wellness at the University of British Columbia (UBC) last year – an opportunity she sees as an important step towards addressing the inequities in cancer care and research affecting Indigenous peoples.
"Cancer care is one of the areas where our healthcare system isn't actually universal," says Dr Caron. "When it comes to understanding cancer in rural, isolated and Indigenous communities across Canada, they haven't been represented in research. For that reason, we don't understand cancer in the same way in these communities."

To address this gap in representation, Dr Caron leads major research initiatives aimed at helping Indigenous peoples participate in and benefit from advances in cancer genetics research and precision medicine in a culturally safe way. She also helped establish the Centre for Excellence in Indigenous Health at UBC, of which she is now the co-director, to improve the recruitment and retention of Indigenous students into health professions and develop courses and programs to address and research Indigenous health concerns.
With her inspiring passion and advocacy for Indigenous health, Dr Caron is helping to make cancer research and care more equitable, diverse and inclusive for Indigenous peoples in Canada.
"As I looked at journal articles and sat in research conferences, it really became more and more apparent to me that the patients I worked with, the family members I spoke to and the communities I visited weren't reflected in cancer research," she shares. "If research is going to have the impact it should be having, it needs to include all Canadians."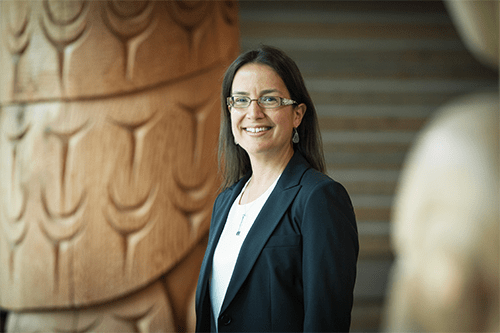 Dr Juliet Daniel: creating inclusivity through her research, mentorship and advocacy @(Model.HeadingTag)>
For Dr Juliet Daniel, the cancer cause has always been close to her heart. As a university student, she lost her mother and several loved ones to cancer. And as a breast cancer survivor who recently celebrated 12 years since her diagnosis, Dr Daniel knows the impact of cancer first-hand.
"My experience motivated me to be a champion for cancer survivors," she shares. "Being a survivor makes me a better cancer researcher and advocate. Many researchers who haven't had a loved one affected by cancer or had the disease themself don't fully understand how a diagnosis can change your life."
Over the past 10 years, Dr Daniel has been dedicated to researching triple negative breast cancer (TNBC), an aggressive and hard-to-treat type of breast cancer more common in women of African and Hispanic ancestry. Her research focuses on understanding these disparities from a biological perspective – uncovering insights that can change the lives of Black and Hispanic women and broaden the research community's understanding of health inequity in Canada.
"I was always shocked to hear leading cancer researchers say that they didn't know TNBC disproportionately affected Black and Hispanic women," says Dr Daniel. "When it comes to cancer research, we need as many diverse voices at the table as possible to get a better understanding of what's happening in our societies, neighbourhoods and communities."
In addition to her research, Dr Daniel champions representation in science. She's one of the longest standing members of the President's Advisory Committee for Building an Inclusive Community (PACBIC) at McMaster University and long-time member of the McMaster Women in Science and Engineering faculty and student group. She also co-founded the Canadian Black Scientists Network to connect, support and help advance the careers of Black Canadians in science, technology, engineering, math and medicine (STEMM).
While there is a lot more to be done to promote equity, diversity and inclusion in the research community, Dr Daniel is encouraged by the passionate young people driving change right now.
"The youth of today are leading the charge in rallying and demanding changes – and people are listening," shares Dr Daniel. "They are the next generation of cancer researchers who will lead the development of new therapies and drugs, break down systemic barriers and ultimately save lives."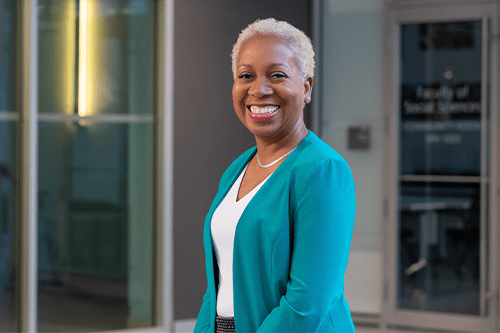 ---
We're proud to recognize leaders like Dr Caron and Dr Daniel for their valuable contributions to cancer research in Canada. Meet the other recipients who are being honoured alongside Dr Caron and Dr Daniel and learn how they're changing the future of cancer through their research.