How a breast cancer survivor found hope and support on her cancer journey

Learn how her family's strength and support from the Canadian Cancer Society helped Bonnie find hope after her breast cancer diagnosis.

2 min. read
In 2008, just a week before their wedding, Bonnie's soon-to-be husband Ben was diagnosed with cancer. They felt overwhelmed and alone because the life-saving treatment he needed was several hours away from their home – they didn't know how they would manage.
The couple turned to the Canadian Cancer Society for support and learned about our lodge – a welcoming home away from home for those who need to travel for cancer treatment.
Our compassionate support system was there for them, helping them get through this experience together. With Ben's journey behind them, their lives carried on. They had children. Bonnie started her own business. However, 10 years later, they would turn to us once more when Bonnie found out she had breast cancer.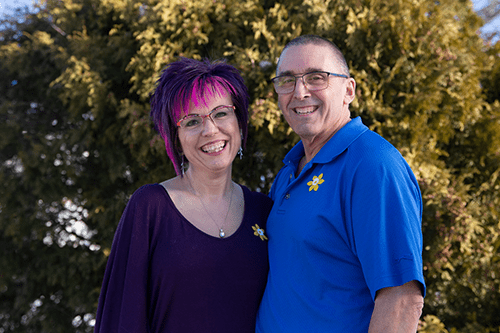 Finding the strength to face her own diagnosis  @(Model.HeadingTag)>
In December 2018 at the age of 49, Bonnie discovered a lump in her left breast. After visiting her doctor, she was diagnosed with stage 2 breast cancer and was told she would need a lumpectomy followed by four weeks of radiation.
This was one of the most challenging chapters of her life. But thanks to her family and remembering the support Ben received from the Canadian Cancer Society, Bonnie felt a strong sense of hope.
"The first thing Ben said to me was, "Don't worry, we are going to get through this, the same way we got through it with me,"' shares Bonnie. "I was relieved to know that a loving support system was going to be there for me too."
Sharing a message of hope @(Model.HeadingTag)>
Throughout her cancer journey, Bonnie found strength by staying hopeful for the future.
"When dealing with a cancer diagnosis, it's important not to lose hope," shares Bonnie. "Hope is what's going to allow you to look forward, every single day. It doesn't necessarily have to be something that you're looking far off into the future for. You are hopeful for today. You are hopeful for tomorrow. That's such an important component when dealing with cancer."
We share in Bonnie's belief and know that now more than ever, we need to be there for people affected by cancer to provide trusted information, compassionate support and hope. Because cancer hasn't stopped being a life-threatening disease during the COVID-19 pandemic, so we can't stop our life-changing work either.
Every spring, the Canadian Cancer Society Daffodil Campaign rallies Canadians to support and remember those affected by cancer. Now more than ever, the daffodil's sunny symbol serves as a meaningful reminder for us to come together and look ahead to brighter days.
With your support of the Daffodil Campaign, we can continue to fund groundbreaking cancer research and a nationwide support system so Canadians like Bonnie don't have to face cancer alone. Help us make a meaningful difference for people affected by cancer and send a powerful message that when daffodils bloom, hope grows.