Life on the road with Wheels of Hope
Learn how Canadian Cancer Society's Wheels of Hope program supported new mom Kelly, and her 6-month-old son Jaxson on their road to recovery.
2 min. read
Becoming a new mom is an emotional ride. Bringing new life into this world is one of life's most incredible joys. For Kelly Tugnett, that joy turned into fear when her 6-month-old son Jaxson began acting differently – he was arching his back in pain and crying more often than usual.
By Christmas Eve, things escalated, so Kelly rushed Jaxson to the emergency room at SickKids Hospital in Toronto, where tests confirmed Jaxson had rhabdomyosarcoma, a type of soft tissue cancer often found in children.
Mom and baby's new life on the road @(Model.HeadingTag)>
Treatment began almost immediately. But getting to and from treatment was an issue for Kelly, a single mom without a driver's licence.
"I could not fathom having to take my sick little boy on the GO Train and transit to get him to treatment," says Kelly. That's when Kelly discovered Wheels of Hope, the Canadian Cancer Society's transportation service in Ontario. She began using the volunteer driving service to get to and from Jaxson's chemotherapy treatments to help shrink his tumour. As a result, doctors were able to successfully remove Jaxson's tumour, his bladder, prostate and one other organ effected by the tumour.
"Being able to use the Wheels of Hope service took a tremendous weight off my shoulders," explains Kelly. "I could not have gotten through this experience without the support from the Canadian Cancer Society and its volunteers."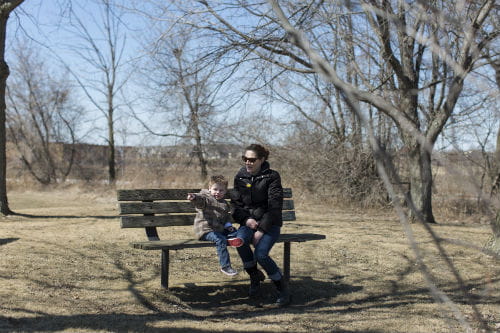 Cancer-free and feeling the love @(Model.HeadingTag)>
After 46 weeks of chemotherapy, Jaxson is officially cancer-free. Kelly and Jaxson continue to use Wheels of Hope for routine check-ups and follow-up appointments in the city.
"It means a great deal to me that people who cared got us to treatment," says Kelly. Keeping patients and their family comfortable and at ease during their travels is our main concern and every one of our volunteer drivers cares deeply about their job.
Over the last year in Ontario, our drivers made more than 60,000 trips totaling 9 million km. These drivers helped 9,000 patients, just like Kelly and Jaxson, attend over 90,000 cancer related appointments.
The Wheels of Hope service is supported by fundraising activities and partners, and it's through this generous support that we are able to offer this program that helps so many families.