How hockey impacted this coach when he faced a cancer diagnosis
A hockey coach shares how the sport and hockey community gave him hope and support throughout his cancer treatments after being diagnosed with colorectal cancer.
4 min. read
Mario always had a love for hockey, so it was no surprise when he went on to become a hockey coach in his spare time. As Mario would put it, "Hockey is in my blood!"
In the summer of 2015, Mario began experiencing intestinal problems but during his annual visit to the doctors, tests didn't detect any abnormalities. Shortly after returning from a trip to Europe to celebrate his 25th wedding anniversary, his symptoms began to worsen.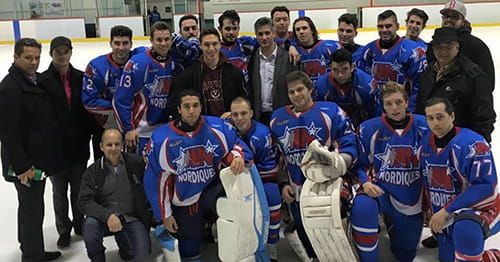 Back at the doctor's office @(Model.HeadingTag)>
With a busy work schedule and his obligations as a hockey coach, Mario didn't return to the doctor until a few months later. A test revealed that there was a mild infection that often goes away with antibiotics. But Mario's symptoms continued to persist and a few months later, he noticed blood in his stool.
After undergoing more tests, doctors diagnosed Mario with colorectal cancer.
Family First @(Model.HeadingTag)>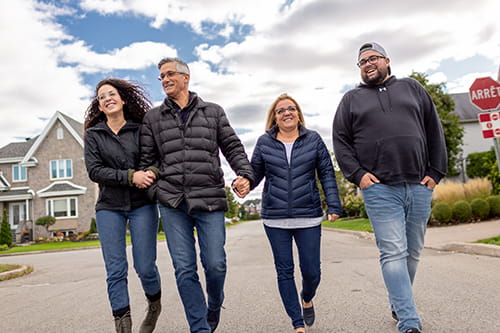 As a father of two, Mario knew that he had to let his children know about his recent diagnosis. For people facing cancer like Mario, talking about it isn't easy – you may not know what to say and it can be hard to predict how loved ones will react. But, it's good to talk about it because it can help you understand your own emotions and make your relationships with loved ones stronger when they understand what you're going through.
"My children asked if I was going to die – but I knew I needed to stay strong for them," says Mario. "I took hold of my courage and told them that I was not dying and that we were going to get through this together," says Mario.
For the love of hockey @(Model.HeadingTag)>
Mario remained strong even after undergoing 25 radiotherapy and chemotherapy treatments over five weeks. After his treatments, his tumour shrunk from the size of an apple core to a penny.

Although Mario was determined to not let his cancer diagnosis slow him down, he had to eventually take time off to focus on his treatments and recovery – and that meant taking time off hockey.

"Hockey was such a big part of my life before my cancer diagnosis and I had to put that on hold when I was undergoing my treatments," explains Mario. "I missed everything about hockey – the players, the energy, and the daily tasks like preparing for practices and game strategies."

With so much passion for the sport and involvement in the hockey community, taking a break made him feel like he was letting people down.

"I was so involved with the team and I felt like I failed them when I began my treatments," says Mario.

Support and strength from the hockey community @(Model.HeadingTag)>
Although Mario felt that he failed his team as a hockey coach, his team and community saw it differently.

"I received dozens of supportive messages on social media, calls from players, coaches and referees," says Mario.

For Mario, the hockey community was like his family – it was a source of motivation for him to get through his cancer treatments. Time and time again, Mario found himself turning to hockey for comfort during his treatments. As a fan of the Montreal Canadiens, Mario couldn't stop thinking about Saku Koivu, the Canadiens' former captain and cancer survivor, and how he received a standing ovation when he first returned to the ice after the cancer was in remission.

"I was also thinking about the wife of Craig Anderson who played for the Ottawa Senators and Brian Boyle from the Florida Panthers," says Mario. "It was an inspiration while I worked towards my remission. It gave me hope that I would get through my treatments and the thought of returning back to hockey gave me the strength I needed to focus on my healing."

A desire to give back @(Model.HeadingTag)>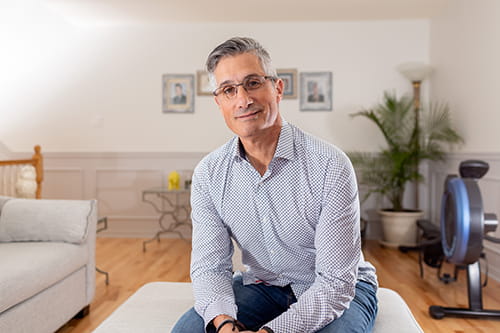 Today, Mario is in remission and has a love for life more than ever before. He's spending more time with his family, taking care of himself by eating well and doing things he really cares about like sharing his love and knowledge of hockey with his team.
But Mario wanted to do more – he wanted to give back. So he decided to advocate for Hockey Fights Cancer™, an initiative founded by the National Hockey League and National Hockey League Players' Association to unite the hockey community in support of people living with, going through and moving past cancer. This year, Hockey Fights Cancer™ is working with us to provide information as well as practical and emotional support for people with cancer and their families.
"Hockey Fights Cancer™ gives those who love and cherish the sport an opportunity to raise awareness and give hope – a hope that we can get through cancer together and that no one is alone," says Mario.
Like Mario, you can get involved by rallying local hockey teams together and organizing a tournament to raise money in support of the Canadian Cancer Society.
"Go for it!" says Mario. "It doesn't matter how big or small it is – every dollar raised counts, spreading awareness is what matters."