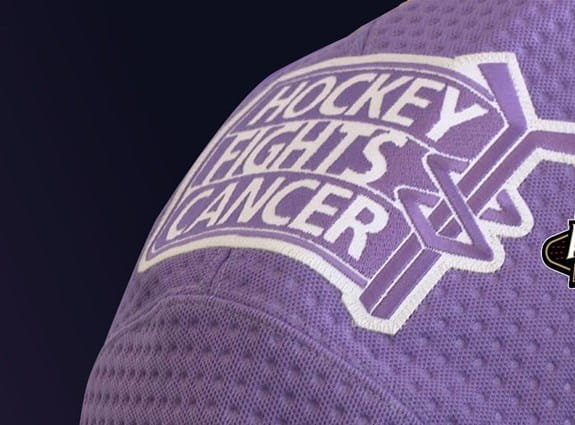 Hockey Fights Cancer
Give to Hockey Fights Cancer for a chance to win a trip to the Honda NHL® All-Star Weekend in Vegas.
Nearly half of Canadians are expected to be diagnosed with cancer in their lifetime, and the hockey community is no exception. Over the years, members of the hockey family have been touched by the disease. Through Hockey Fights CancerTM, the National Hockey League (NHL) and the National Hockey League Players' Association (NHLPA) honour those who are no longer with us and support those living with, going through and moving past cancer.

Hockey Fights CancerTM unites the hockey community and gets an assist from players, coaches, officials, front office staff, corporate partners, fans and supporters to help people with cancer, and their families. Together with the hockey family, we are a force-for-life in the face of cancer.
Hockey Fights CancerTM was founded by the NHL and NHLPA in 1998 to unite the hockey community in support of people with cancer, and their families. The Hockey Fights CancerTM initiative has resulted in donations of more than $28 million to support national and local cancer research institutions, children's hospitals, player charities and local charities. Hockey Fights CancerTM is working with the Canadian Cancer Society (CCS) and the American Cancer Society (ACS) to support a better quality of life for patients, caregivers and their families.
CCS and ACS share a vision for a world where no one fears cancer. Through a broad range of programs and investments, the organizations positively affect lives by funding research, making healthy living easier and providing the most comprehensive information and support services for those with cancer and their families.
Your donation or fundraising in support of the Hockey Fights CancerTM initiative in Canada will enable CCS to direct resources to help support and improve the quality of life of people affected by cancer, their families and caregivers in the following ways:
Lodges
CCS operates 7 lodges across Canada that provide people with cancer with a welcoming, caring place to stay that supports their emotional and practical needs when travelling far from home for cancer treatment.
Support system
Only CCS has a nation-wide support system that makes a real difference for people affected by cancer. Now more than ever, online and phone support programs are critical to people affected by cancer, providing information, reducing anxiety and limiting feelings of isolation. Vital programs, such as the coast-to-coast cancer information helpline, are designed to address a range of needs including understanding a diagnosis, treatment options, survivorship and living with metastatic cancer. It also offers emotional support for those going through cancer, spouses, caregivers, parents and their children.
Transportation
Transportation to and from appointments can be a source of stress for many people with cancer - especially if they live far away. In communities across the country, CCS provides transportation support for people who are receiving lifesaving treatments, which helps people with cancer focus on getting well and eliminates the worry of how they manage their travel.
Just like in hockey, Canadians living with cancer need support from a team – and this year may be even more challenging for them due to the added stress and isolation caused by COVID-19. Funds raised through Hockey Fights CancerTM provide a support system for people with cancer and their families so no one faces cancer alone. Your contribution has never been more important.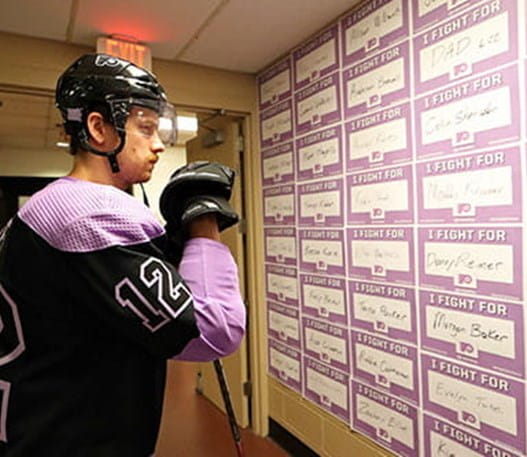 Donate to support the Hockey Fights CancerTM initiative and help CCS fund their programs and services to help those with cancer.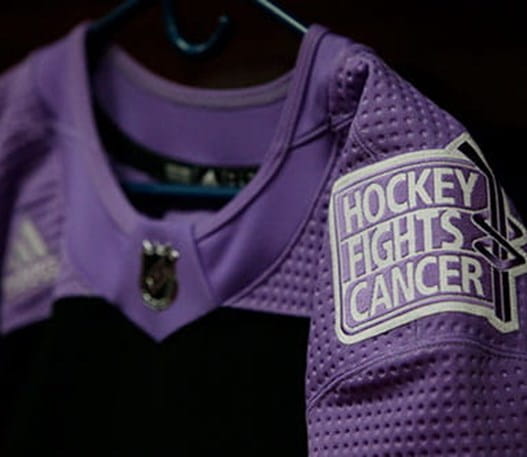 Sport your fandom. You can buy Hockey Fights CancerTM merchandise* and rock your gear to show your support.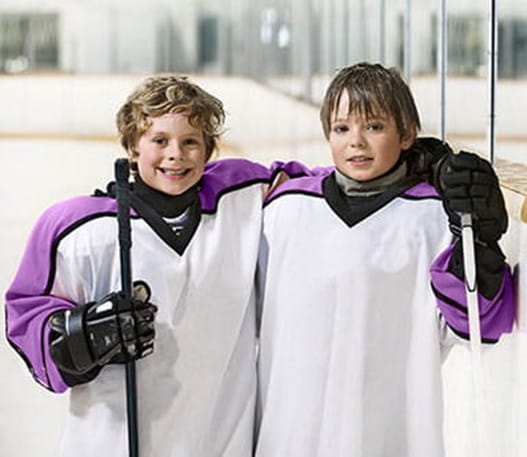 Give a meaningful gift that makes a real impact. Give the hockey lover in your life the Gift of an Assist, which provides physical and emotional support to Canadians living with cancer.
This year, you can join the Hockey Fights Cancer program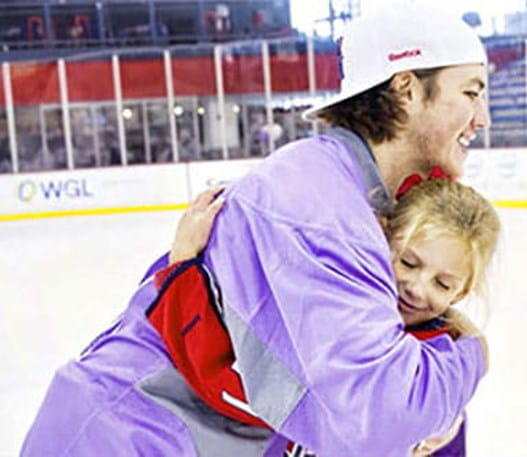 Participate with HFC Assist
HFC Assist allows youth and minor league hockey teams across the country to support Hockey Fights CancerTM just like their favourite NHL team. Teams can join the NHL, NHLPA and CCS in helping to create a world where no one fears cancer and can earn exclusive rewards by hosting their very own Hockey Fights CancerTM fundraiser. Whether it's during the hockey season, or in the off-season, you can get started today. Contact hockeyfightscancer@cancer.ca for more information.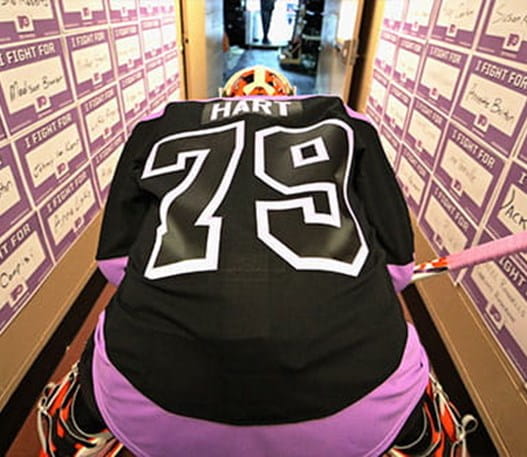 Host an HFC Fundraiser
Together with the NHL and NHLPA, CCS has created a way for hockey fans to get involved with Hockey Fights CancerTM and make a difference - just like their favourite NHL teams. Rally the hockey fans in your life together to help extend the reach of Hockey Fights CancerTM by hosting a virtual fundraising event.
 #HOCKEYFIGHTSCANCER @(Model.HeadingTag)>
* This link is not an endorsement of products.
NHL and the NHL Shield are registered trademarks and Hockey Fights CancerTM name and logo are trademarks of the National Hockey League. NHL and NHL team marks are the property of the NHL and its teams. ©NHL 2019. All Rights Reserved.
NHLPA and the NHLPA logo are registered trademarks of the National Hockey League Players' Association. ©NHLPA. All Rights Reserved.