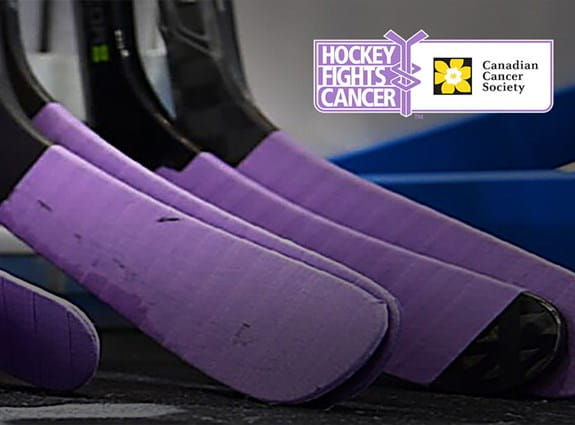 Hockey Fights CancerTM
Together with the hockey family, we can improve the lives of those facing cancer.
Nearly half of Canadians are expected to be diagnosed with cancer in their lifetime, and the hockey community is no exception. Over the years, members of the hockey family have been affected by cancer.
Together with the National Hockey League (NHL) and National Hockey League Players Association (NHLPA), the Hockey Fights Cancer™ partnership inspires hope and courage for people who are living with, going through and moving past cancer across Canada.
Funds raised through the Hockey Fights Cancer™ partnership provides compassionate support services when they are needed most – such as accommodations during cancer treatment, transportation to and from appointments and reliable, trusted information to make life better for people with cancer.
Hockey Fights Cancer™ was founded by the NHL and NHLPA. Since its inception, the Hockey Fights Cancer™ program has resulted in donations of more than $32 million to support the cancer programs of local and national cancer research institutions, children's hospitals, player charities and local charities.
Be part of the Hockey Fights Cancer™ team
There are many ways you can get involved: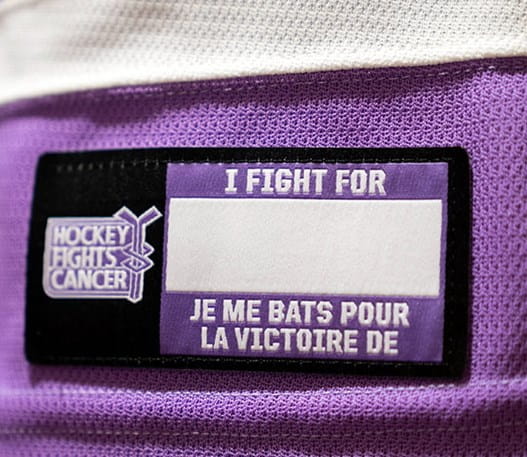 Hockey fans, and youth and minor hockey teams across Canada can join in HFC Assist and support Hockey Fights Cancer™ just like their favourite NHL teams and players. Teams can earn exclusive rewards by hosting their very own Hockey Fights Cancer™ game. Get started today.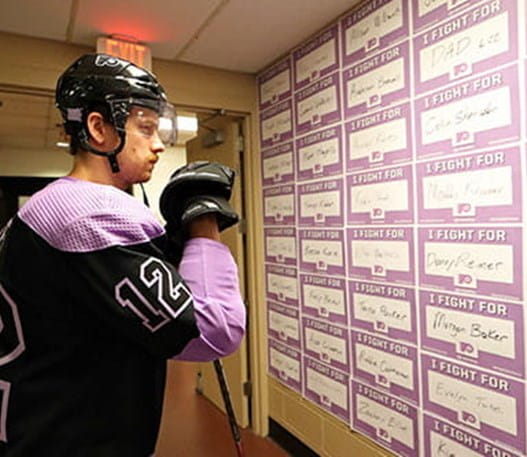 Donate to support Hockey Fights Cancer™ and help power CCS's
nation-wide
support system so no one faces cancer alone.
Funds raised in support of Hockey Fights Cancer™ help the American Cancer Society (ACS), Canadian Cancer Society (CCS) and V foundation to support people affected by cancer, their families, and caregivers. At CCS, this includes:
Accommodation at CCS lodges
CCS operates 7 lodges across Canada to provide welcoming and safe accommodation for people with cancer who need to travel to receive treatment. Each lodge has unique amenities and services available to meet the practical, emotional and social needs of those facing cancer.
Trusted information and compassionate support
CCS's online and phone programs offer tailored support to people facing cancer, no matter what type of cancer they have or where they are in their cancer journey. Programs are available 24/7, in more than 150 languages through an interpreter service, from coast to coast to coast.
Transportation - Wheels of Hope
In communities across the country, CCS can help provide a ride or financial assistance for transportation so people can get to their lifesaving treatment appointments – and focus on the road ahead.
 #HOCKEYFIGHTSCANCER @(Model.HeadingTag)>
* This link is not an endorsement of products.
NHL and the NHL Shield are registered trademarks and Hockey Fights Cancer™ name and logo are trademarks of the National Hockey League. NHL and NHL team marks are the property of the NHL and its teams. ©NHL 2023. All Rights Reserved.
NHLPA and the NHLPA logo are registered trademarks of the National Hockey League Players' Association. ©NHLPA. All Rights Reserved.