How colorectal cancer screening could make a life-saving difference
A simple stool test for colorectal cancer helped catch Jeff's colon cancer early. Today, he's cancer-free and is an advocate for cancer screening.
2 min. read
In the spring of 2014, Jeff had not been able to sleep for several months. The exhausted Toronto-based singer songwriter knew something was wrong and headed to his doctor for a physical. Because Jeff was in his 50s, his doctor asked him to complete a stool test.
After a positive test, Jeff was referred for a colonoscopy, which revealed troubling news. Jeff had stage 2 colon cancer.
"When I got the colon cancer diagnosis, I immediately started thinking about the worst. When you get crushing news like a cancer diagnosis, you really start to prioritize what's important," says Jeff who has a family history of cancer.
Jeff turned to the Get screened for colorectal cancer for information. After getting a better understanding of his diagnosis, Jeff felt more confident going into surgery to remove the tumour in his colon.
Jeff has played acoustic guitar and dabbled in song writing since he was a teenager. During his recovery, Jeff began writing material for a lifelong music project he always hoped to produce. Now cancer-free, Jeff is a cancer screening advocate and hopes to spread the word about the importance of screening.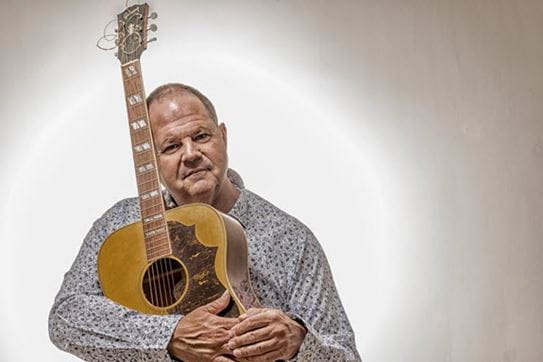 "I encourage everyone to take charge of their own health and talk to their doctor about screening," shares Jeff. "Don't wait until you have symptoms like I did. I was lucky that my cancer was caught early and had not spread beyond my colon. If my doctor had not recommended the stool test, who knows where I would be today. I will never take my health for granted again."
Colorectal cancer is the second leading cause of cancer death in Canada. Despite the availability of screening programs in most parts of the country, about half of people with colorectal cancer are diagnosed after the disease has spread.
The Canadian Cancer Society strongly encourages people to talk to their healthcare professional about what cancer screening options are right for them. In general, we recommend that Canadians aged 50 to 74 who are not at high risk for colorectal cancer get screened every 2 years with a simple at-home stool test. When colorectal cancer is diagnosed at stage 4, survival is less than 15%. But, this jumps to 90% if diagnosed at stage 1.
Having your stool tested may seem odd, but it's easy, it can be done in the comfort of your own home and could make a life-saving difference. Colorectal cancer screening can help catch cancers earlier or detect pre-cancerous changes that can be treated and stop the cancer from ever developing. In this way, screening can prevent colorectal cancers and colorectal cancer deaths.