Tyler's story: How a genetic test for stomach cancer changed this father's life
Thanks to Canadian Cancer Society-funded research, this father took part in a genetic test for stomach cancer that helped him make a life-changing decision.
2 min. read
As a loving husband and dedicated father, Tyler knew he had to make a drastic change in his life when his mother and older sister passed away from stomach cancer. Looking for answers, Tyler and his other sister Shelley, opted to take part in genetic testing. The results of this test would help them better understand their risk of a hereditary stomach cancer that is often diagnosed in its late stages – when treatment is no longer an option.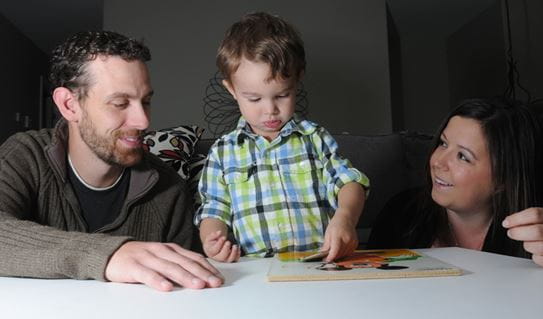 Cutting-edge research @(Model.HeadingTag)>
With funding from the Canadian Cancer Society, Dr David Huntsman, a leader in the field of genetic markers for cancer, was able to conduct research on hereditary gastric cancers. By studying the DNA of families with the disease, he was able to find genetic changes that increased a family member's likelihood of developing stomach cancer. This research would eventually assist people like Tyler and Shelley in making informed decisions about their cancer risk and treatments.
Family first @(Model.HeadingTag)>
After using the genetic test that Dr Huntsman developed, it was revealed that Tyler and his sister carried the same genetic mutation that their mom and older sister had.
Knowing the risks and the impact of this disease in his family, Tyler decided to take charge of his health and chose to have his stomach removed. This procedure reduced Tyler's chances of passing away from the disease from 70% to less than 1%.
"Deciding on the surgery was a no-brainer," explains Tyler.
For Tyler, having his stomach removed meant that he would be able to see his son grow up – attend his soccer games, watch him go to prom, and graduate from high school.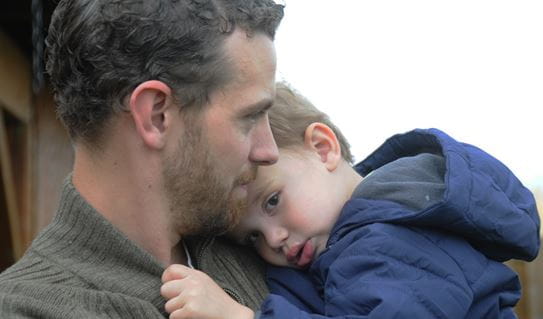 Empowering others through cancer research @(Model.HeadingTag)>
Groundbreaking cancer research like Dr Huntsman's is helping keep families like Tyler's together. Today, Tyler is a devoted volunteer committee member, organizer and participant for the Canadian Cancer Society Relay For Life and continues to raise funds for cancer research so others can benefit from it like he did.
"Cancer is still taking many people's lives, but you see so many people who are cancer survivors, all because of research," says Tyler.
The Canadian Cancer Society invests in the best research across more than 100 types of cancers. As the largest national charitable funder of cancer research, we are committed to learning more about what causes cancer, how it develops, how best to treat it and how we can improve the quality of life for people living with cancer. With your support, we can continue investing in research that changes the lives of Canadians, like Tyler.