Results of the September 2021 Challenge Grants competition
We are pleased to announce the results of the Challenge Grants (CHA-22) competition. The Challenge Grant program supports cancer research projects across the cancer continuum and across disciplines, with an ultimate goal of solving a problem (i.e., a challenge) in cancer that will be meaningful to people affected by or at risk of cancer.
367 abstracts were received by the July 28th registration deadline and 274 eligible full applications were received by the September 22nd deadline. Of the 274 full applications, 46 grants have been approved for funding – a 17% success rate. These projects total approximately $19.7 million in funding over the full term of these grants and include funds from the Lotte & John Hecht Memorial Foundation.
Geographical breakdown @(Model.HeadingTag)>

Investment by research area @(Model.HeadingTag)>


Investment by cancer type @(Model.HeadingTag)>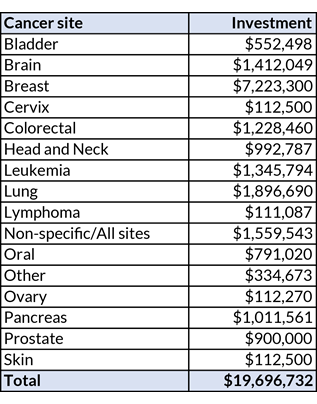 Competition results by gender identity @(Model.HeadingTag)>


Competition results by career stage @(Model.HeadingTag)>


Abstracts of Challenge Grant projects @(Model.HeadingTag)>
Please note:
Amounts listed below represent the total dollars awarded and may include funds for salaries, supplies, and equipment.
The start date for these grants is January 1, 2022.
Only the Principal Investigator is named in this listing. Co-Principal Investigators, Co-Applicants, and/or Additional Authors, Knowledge Users, and/or Survivors/Caregivers may also be associated with these grants.
Below is a list of newly awarded Challenge grants.
Note Carefully:
Although every effort has been made to ensure the accuracy of the listing below, this list does not constitute an "official" notification.
Successful applicants have been informed, in writing, with an official Notification of Award giving the details pertaining to their grant.
Applicant
Institution
Title
Addison, Christina
Ottawa Hospital Research Institute
Novel fructose radiotracers for enhanced detection of breast cancer

2021/2022 $150,000
2022/2023 $150,000
2023/2024 $150,000
Alain, Tommy
Children's Hospital of Eastern Ontario
Oral Administration of Reoviruses for the Treatment and Prevention of Colorectal Cancer
(supported by the Lotte & John Hecht Memorial Foundation)


2021/2022 $150,000
2022/2023 $150,000
2023/2024 $150,000
Allan, Alison
Western University
A multi-biomarker approach for defining the oligometastatic state using liquid biopsies
2021/2022 $150,000
2022/2023 $150,000
2023/2024 $150,000
Auer, Rebecca
Ottawa Hospital Research Institute

Understanding and manipulating impaired NK cell metabolism induced by surgical stress to prevent postoperative metastatic disease
2021/2022 $149,970
2022/2023 $149,970
2023/2024 $149,970

Basik, Mark
Jewish General Hospital
Targeting lipid reprogramming in chemoresistant triple negative breast cancer
2021/2022 $150,000
2022/2023 $150,000
2023/2024 $150,000
Bender, Jackie
Princess Margaret Cancer Centre - UHN
Digital peer navigation for adolescents and young adults with cancer: a feasibility study
2021/2022 $148,134
2022/2023 $147,290
2023/2024 $148,922

Boisvert, Francois-Michel
Université de Sherbrooke
Urinary proteomics: towards the discovery of biomarkers for the early diagnosis of bladder cancer
2021/2022 $149,765
2022/2023 $149,375
2023/2024 $149,668
Bombard, Yvonne
St. Michael's Hospital
Mainstreaming Genetics: Co-design and evaluation of a digital application to scale and spread oncologist initiated genetic testing
2021/2022 $149,345
2022/2023 $150,000
2023/2024 $149,736
Chao, Jesse
Sunnybrook Research Institute
Artificial intelligence for dysplasia detection and risk stratification

2021/2022 $143,720
2022/2023 $122,800
2023/2024 $122,800
Chen, Guojun
McGill University
Injectable cold plasma-mediated immune checkpoint blockade therapy for breast cancer treatment

2021/2022 $149,500
2022/2023 $149,500
2023/2024 $149,500

Covelli, Andrea
Mount Sinai Hospital
Understanding and improving the breast cancer experiences of black women

2021/2022 $81,326
2022/2023 $71,539

Cunningham, Charles
Sunnybrook Research Institute
Hyperpolarized 13C MRI for the personalized management of intracranial metastases

2021/2022 $149,537
2022/2023 $149,537
2023/2024 $149,537

Desjardins, Leandra
CHU-Sainte Justine Research Centre
Sensitivity and specificity: identification of an optimal cognitive screening measure in pediatric oncology

2021/2022 $145,928
2022/2023 $142,328
2023/2024 $149,328
Eskander, Antoine (Tony)
Sunnybrook Research Institute
Patient Reported Symptom Burden as a Predictor of Emergency Department Use and Unplanned Hospitalization: A Multi-Methods Approach to Improving Head and Neck Cancer Care in Ontario
2021/2022 $149,411
2022/2023 $149,523
2023/2024 $140,163

Gorski, Sharon
BC Cancer, part of the Provincial Health Services Authority
Pancreatic neuroendocrine neoplasms: exploring subgroup-defining biomarkers and therapeutic vulnerabilities

2021/2022 $150,000
2022/2023 $150,000
2023/2024 $150,000
Greer, Peter
Queen's University
Ezrin as a novel therapeutic target in breast cancer
2021/2022 $150,000
2022/2023 $150,000
2023/2024 $150,000
Hope, Kristin
Princess Margaret Cancer Centre - UHN
Characterizing PLAGL2 as a pre-leukemic driver and therapeutic target
2021/2022 $150,000
2022/2023 $150,000
2023/2024 $150,000
Huang, Xi
The Hospital for Sick Children
Treating glioblastoma using an ion channel complex targeting designer interference peptide
2021/2022 $150,000
2022/2023 $150,000
2023/2024 $150,000
Irish, Jonathan
Princess Margaret Cancer Centre UHN
Nanoparticle enabled photodynamic therapy and fluorescence guided surgery for treatment of oral cavity cancer

2021/2022 $129,700
2022/2023 $136,000
2023/2024 $136,000
Isaac, Kathryn
University of British Columbia
The RELAPSE study: Relapse by ELectronic record Automation Pipeline StratEgy study
2021/2022 $150,000
2022/2023 $150,000
2023/2024 $150,000
Jarvi, Keith
Mount Sinai Hospital
Reducing the number of prostatic biopsies during diagnostic workup for prostate cancer

2021/2022 $150,000
2022/2023 $150,000
2023/2024 $150,000
Khokha, Rama
Princess Margaret Cancer Centre - UHN
Heterogeneity-informed interception strategies for pancreatic cancer

2021/2022 $149,315
2022/2023 $149,985
2023/2024 $149,991
Lapointe, Rejean
Centre de recherche du CHUM

Impact of intra-tumoral microbiome on local inflammation

2021/2022 $150,000
2022/2023 $150,000
2023/2024 $150,000
McGlade, C. Jane
The Hospital for Sick Children

Targetting cancer splicing programs to prevent metastatic progression

2021/2022 $149,950
2022/2023 $149,950
2023/2024 $149,950
Moran, Michael
The Hospital for Sick Children
Characterization and targeting lung cancer proteotypes
2021/2022 $150,000
2022/2023 $150,000
2023/2024 $150,000
O'Brien, Catherine
Princess Margaret Cancer Centre - UHN
Targeting drug tolerant persisters in colorectal cancer


2021/2022 $150,000
2022/2023 $150,000
2023/2024 $150,000
Perreault, Claude
Université de Montréal
Rational Design of Antigen-Targeted Breast Cancer Immunotherapy
2021/2022 $150,000
2022/2023 $150,000
2023/2024 $150,000
Quail, Daniela
McGill University
Harnessing immuno-nutrition to improve immunotherapy efficacy in lung tumours
(supported by the Lotte & John Hecht Memorial Foundation)

2021/2022 $147,000
2022/2023 $150,000
2023/2024 $146,000
Raught, Brian
Princess Margaret Cancer Centre - UHN
Targeting ETV6 Fusion Proteins in B ALL
2021/2022 $148,598
2022/2023 $148,598
2023/2024 $148,598
Reedijk, Michael
Princess Margaret Cancer Centre UHN
Combination immunotherapy for the treatment of triple-negative breast cancer
2021/2022 $150,000
2022/2023 $150,000
2023/2024 $150,000
Roberts, Amanda
Odette Cancer Centre Sunnybrook HSC (CCO)
Neoadjuvant chemotherapy for triple negative and Her2+ve breast cancer in Ontario: striving for the standard of care
2021/2022 $52,383
2022/2023 $54,865
2023/2024 $35,865
Robichaud, Gilles
Université de Moncton
Role of platelet-derived microvesicles in breast cancer metabolic plasticity and disease progression
2021/2022 $150,000
2022/2023 $150,000
2023/2024 $150,000
Rose, April
Jewish General Hospital
Defining the critical genomic dependencies of non-V600 BRAF mutant tumors to optimize therapeutic strategies

2021/2022 $150,000
2022/2023 $150,000
2023/2024 $150,000
Roskelley, Calvin
University of British Columbia
A novel, tumour-specific therapeutic strategy against breast cancer

2021/2022 $150,000
2022/2023 $150,000
2023/2024 $150,000
Sauro, Khara
University of Calgary
Transitions in care among patients with cancer (CanTiC)
2021/2022 $126,450
2022/2023 $148,510
2023/2024 $139,800
Schramek, Daniel
Mount Sinai Hospital
IGFBP3 as novel drug target for treatment of HNSCC
2021/2022 $150,000
2022/2023 $150,000
2023/2024 $150,000
Shuhendler, Adam
University of Ottawa
Alternative Vitamin Metabolism As A Biomarker For Drug Resistance In Lung Cancer
2021/2022 $150,000
2022/2023 $150,000
2023/2024 $150,000
Singh, Sheila
McMaster University
Deciphering the metabolic rewiring of myc-amplified medulloblastoma
2021/2022 $150,000
2022/2023 $150,000
2023/2024 $150,000
Stambolic, Vuk
Princess Margaret Cancer Centre - UHN
CCTG MA:32, A Phase III RCT of metformin vs placebo in the adjuvant breast cancer (BC) setting: Exploration of tissue related (i) prognostic biomarkers of obesity and (ii) predictive biomarkers of metformin benefit

(supported by the Lotte & John Hecht Memorial Foundation)
2021/2022 $149,300
2022/2023 $149,300
2023/2024 $149,300
Tran, Thai Hoa
CHU Sainte-Justine Research Centre
I
nvestigating the mechanisms of relapse and identifying novel prognostic biomarkers in pediatric Philadelphia chromosome-positive acute lymphoblastic leukemia

2021/2022 $150,000
2022/2023 $150,000
2023/2024 $150,000
Ursini-Siegel, Josie
Jewish General Hospital
Exploiting STAT1-induced oxidative stress to potentiate the tumoricidal response of metabolic therapies

2021/2022 $150,000
2022/2023 $150,000
2023/2024 $150,000
Whelan, Timothy
McMaster University
Long-term results of the LUMINA prospective cohort study evaluating the risk of local recurrence in low Risk luminal a breast cancer

2021/2022 $130,314
2022/2023 $131,361
2023/2024 $147,429
Wyatt, Alexander
University of British Columbia
Accelerating clinical development of plasma ctDNA fraction as a management tool in advanced prostate cancer
2021/2022 $150,000
2022/2023 $150,000
2023/2024 $150,000
Yuan, Yan
University of Alberta
Optimizing Brain Tumour Surveillance in Canada
2021/2022 $148,368
2022/2023 $146,337
2023/2024 $149,393
Zarrine-Afsar, Arash
Techna Institute - UHN
10 second cancer pathology with laser mass spectrometry
2021/2022 $142,500
2022/2023 $147,500
Zawertailo, Laurie
Centre for Addiction and Mental Health
Coordinating smoking cessation treatment with menstrual cycle phase to improve quit outcomes: a randomized controlled trial

2021/2022 $150,000
2022/2023 $150,000
2023/2024 $150,000
*Approved budget listed by CCS fiscal year  
Last modified on: February 10, 2022