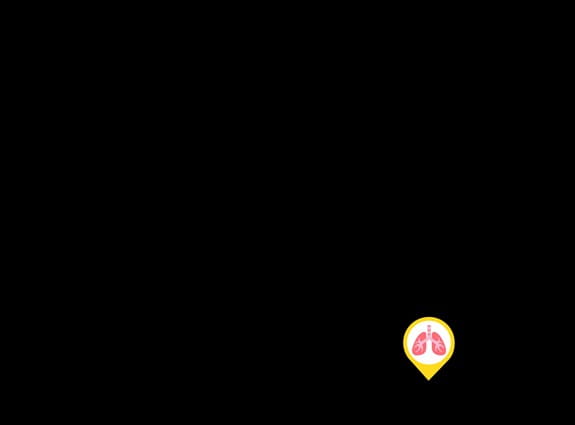 Leveraging artificial intelligence to detect lung cancer earlier in more people
A team led by Dr Renelle Myers and Dr Rayjean Hung is using artificial intelligence (AI) to design different approaches to the early detection of lung cancer in people who are currently ineligible for screening programs.
Lung cancer is the leading cause of cancer death in Canada. An estimated 1 in 15 people in Canada are expected to be diagnosed with lung cancer in their lifetime. Detecting cancer early, when treatment is more likely to be successful, can increase the chances of survival. But existing guidelines recommend screening exclusively for current or former smokers who have smoked heavily, a criterion that excludes a significant number of those diagnosed with the disease in Canada. Additionally, CT scans are often part of routine investigations for a variety of health conditions, and they can detect lung nodules called incidental pulmonary nodules (IPNs). People with IPNs have been found to have an increased risk of developing lung cancer, but they are often not followed up appropriately, representing a missed opportunity for early diagnosis.
With support from the Canadian Cancer Society and the Lotte & John Hecht Memorial Foundation, this research team is developing a multi-pronged approach to ultimately improve the detection and diagnosis of lung cancer for more people. Utilizing the power of AI, the team of multi-disciplinary experts will develop tests that identify chemical signatures in breath and biomarkers in blood that indicate the presence of lung cancer before clinical diagnosis. At the same time, they will create an AI method to determine if IPNs detected by CT scan are cancerous or non-cancerous.
This project leverages and builds on existing resources and expertise to address significant gaps in lung cancer detection in Canada. If successful, it could help to establish new methods and programs for early detection, saving lives.
Total Amount Awarded over 5 years: $ 5,472,575
Team Members @(Model.HeadingTag)>
Co-Principal Investigators
Rayjean Hung, Mount Sinai Hospital
Renelle Myers, BC Cancer, part of the Provincial Health Services Authority
Co-Applicants
Kieran Campbell, Mount Sinai Hospital
Stephen Lam, BC Cancer Agency (Vancouver)
Jonathan Leipsic, University of British Columbia
Geoffrey Liu, Princess Margaret Cancer Centre - UHN
Calum MacAulay, BC Cancer, part of the Provincial Health Services Authority
Simon Martel, Université Laval
Micheal McInnis, University Health Network
Rafael Meza, BC Cancer, part of the Provincial Health Services Authority
Stuart Peacock, BC Cancer Agency (Vancouver)
Rasika Rajapakshe, BC Cancer, part of the Provincial Health Services Authority
Tawimas Shaipanich, University of British Columbia
Martin Tammemagi, Brock University
Patients, Survivors and Caregivers
MaryAnn Bradley
Anita Callahan
William Callahan
Additional Authors
Jihyoun Jeon, University of Michigan
Dorota Ruszkiewicz, University of British Columbia
Knowledge Users
Marie-Hélène Denault, Université Laval
John Mayo, University of British Columbia
Kazuhiro Yasufuku, The Toronto Hospital (General Division) - UHN
John Yee, Vancouver General Hospital
Collaborators
Mattias Johansson, International Agency for Research on Cancer
Hilary Robbins, International Agency for Research on Cancer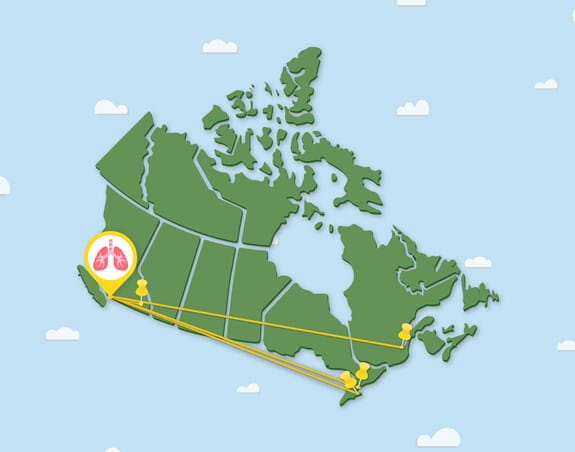 Team Geography
Team members from 3 provinces, as well as one US state (Michigan) and France