 Engaging people with gene mutations to detect cancer earlier with a blood test
A team led by Dr Trevor Pugh and the CHARM Consortium is conducting a clinical trial to improve detection, treatment and quality of life for people with a genetic predisposition to cancer.
This project brings together a team comprised of leaders in the field of familial cancer syndromes (FCS). People with inherited, or familial, forms of cancer carry genes that place them at a high risk of developing multiple cancers throughout their lifetime, including stomach, esophageal, lung, brain and pancreatic cancers. Because of their high cancer risk, this population is regularly screened for signs of cancer and therefore represents an ideal population for the proposed clinical trials on a blood-based test for cancer, including those that are the focus of the Breakthrough Grants initiative.
The research team is building on previous work to develop a genetic blood test that can detect tumour DNA circulating in the blood stream at the same time or earlier than the conventional annual medical exams for people with FCS, when less aggressive therapies can be used, and treatments are more likely to succeed. The results of this project could have wide-reaching implications for the early detection of cancer above and beyond those people living with FCS.
Since 2017, they have been working with more than 130 clinicians, scientists and patient partners from across Canada to develop the foundation for this project. Now, with funding from the Canadian Cancer Society and the Canadian Institutes of Health Research, they are conducting a clinical trial to directly engage patient participants and prove that cancer for people with FCS at risk for high fatality cancers can be detected earlier with a simple blood test than through conventional methods.
The team has members in Canada, the United Kingdom and the United States, including 3 patient partners. If successful, this project has the potential to transform our ability to detect multiple cancers in the very early stages, revolutionizing the outcomes, access to testing and quality of life for cancer patients.
Total Amount Awarded over 5 years: $ 7,497,581.15
Team Members @(Model.HeadingTag)>
Principal Investigator
Trevor Pugh, Princess Margaret Cancer Centre - UHN, Ontario Institute for Cancer Research
Co-Principal Investigators
Yvonne Bombard, St. Michael's Hospital
Raymond Kim, University Health Network
Kasmintan Schrader, University of British Columbia
Co-Applicants
Melyssa Aronson, Mount Sinai Hospital
Mark Basik, Lady Davis Institute
Julia Burnier, The Research Institute of the McGill University He
Natalie Coburn, Sunnybrook Research Institute
Lesa Dawson, Memorial University
Holly Etchegary, Memorial University
William Foulkes, McGill University
Steven Gallinger, Mount Sinai Hospital
Angela Hirbe, Washington University School of Medicine
Aly Karsan, BC Cancer Agency (Vancouver)
David Malkin, The Hospital for Sick Children
Tracy Stockley, University Health Network
Alicia Tone, Ovarian Cancer Canada
Wei Xu, University Health Network
Patients, Survivors and Caregivers
Janice Fukakusa, Princess Margaret Cancer Foundation
Chiquita Hessels, LFS Association Canada
Teresa Tiano, My Gut Feeling
Collaborators
Philippe Bedard, Princess Margaret Cancer Centre - UHN
Lillian Siu, Princess Margaret Cancer Centre - UHN
Emma Woodward, University of Manchester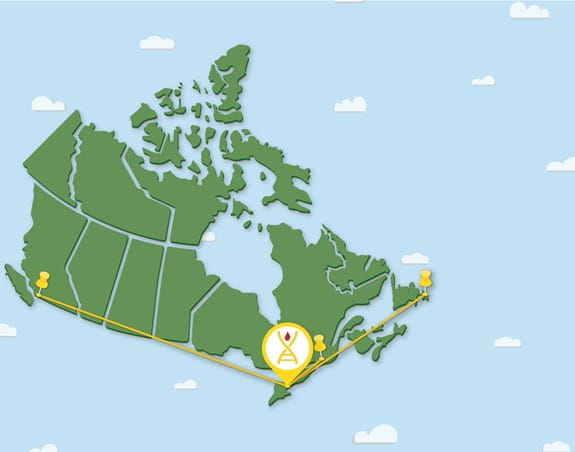 Team Geography
Team members from 4 provinces, as well as 2 US states (Missouri, Massachusetts) and the UK