Awards for Excellence 2022 Winners
Since 1993, we have acknowledged some of the country's best researchers with our Canadian Cancer Society Awards for Excellence. We are proud to honour these talented individuals who have played a key role in the advancement of cancer research. These individuals have made rich and meaningful contributions, whether in advancing biomedical cancer research or conducting research that has made a major impact on cancer control in Canada.
Congratulations to all our award winners!
Canadian Cancer Society Inclusive Excellence Prize @(Model.HeadingTag)>
Dr. Gary Groot
Recipient, 2022 Inclusive Excellence Prize
Professor, Departments of Surgery and Community Health and Epidemiology, University of Saskatchewan
Director of Quality, Department of Surgery, University of Saskatchewan
Medical Director of Clinical Quality Improvement, Saskatchewan Health Authority
Director of Quality and Research, Irene and Leslie Dube Breast Health Centre of Care
Dr Gary Groot is a surgical oncologist widely recognized as a champion of health equity in the field of cancer research. His research interests include health system improvement as well as Indigenous, community and patient-oriented health research.
Dr Groot's projects have sought to generate data that can inform policies to improve health equity for Indigenous Peoples with cancer, their families and communities. Grounded in Indigenous perspectives, these projects emphasize the importance of reconciliation, Indigenous cultural revitalization and cultural humility.
The focus of his research has highlighted several barriers to quality care for Indigenous Peoples, such as poor care coordination, lack of patient educational support and poor provision of culturally appropriate health care. With funding from CCS, his team is working alongside Métis community members, including Elders and cancer survivors, to better understand the traditional customs and ways of knowing and being that underlie successful health promotion for Métis people.
Dr Groot has received research funds through his collaborations with Indigenous communities and those opportunities have allowed him to provide scholarships for students from across the world to come to Canada to pursue a graduate degree. Through his work, he has contributed to building a research team where Indigenous Peoples, immigrants, persons of colour and people of diverse sex and gender (2SLGBTQIA+) have been accepted, included and appreciated.
Through his tremendous dedication to research excellence, Dr Groot is advancing health equity and making a meaningful and measurable impact in Canada's cancer research landscape.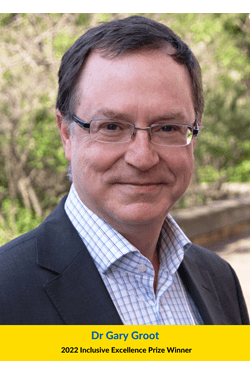 Canadian Cancer Society Lifetime Contribution Prize @(Model.HeadingTag)>
Dr Frances Shepherd
Recipient, 2022 Lifetime Contribution Prize

Scott Taylor Chair in Lung Cancer Research
University Professor, University of Toronto, Department of Medicine
Staff Physician, Princess Margaret Cancer Centre, University Health Network
Dr Frances Shepherd is an international leader in clinical and translational lung cancer research whose work has transformed the standard of care for patients in Canada and around the world.
With a career spanning more than four decades, Dr Shepherd has contributed to more than 600 peer-reviewed publications and countless citations. She has also designed and led more than 100 innovative clinical trials, many of which have changed treatment for people with early- and advanced-stage lung cancer worldwide.
In 2001, Dr Shepherd was named the Scott Taylor Chair in Lung Cancer Research at Princess Margaret Cancer Centre, becoming the first holder of this esteemed research position with a primary goal of investigating new options for lung cancer therapy. For 19 years, she served as Chair of the Lung Cancer Committee at the Canadian Cancer Trials Group (CCTG), a national program of CCS.
Dr Shepherd also has been instrumental in establishing lung cancer tumour banks for basic laboratory-based researchers to study this devastating cancer at a molecular level. Through her leadership, she has brought together a team of bench-to-bedside researchers committed to studying and treating lung cancer. This team is recognized worldwide as one of the foremost groups turning the development of basic science discoveries into clinical applications.
Dr Shepherd has served on numerous national and international boards including the American Society of Clinical Oncology, the International Association for the Study of Lung Cancer, and the European Organization for Research and Treatment of Cancer. She has received many awards for her achievements, including CCS's O. Harold Warwick Prize in 2006, the Order of Ontario in 2007 and an Ontario Premier's Summit Award for Medical Research in 2008. In 2015, she became an Officer of the Order of Canada. Dr. Shepherd is also a valued teacher. In 2013, she received the Novartis Canada Oncology Award for Mentorship in recognition of the more than 50 post-doctoral research fellows she has mentored from around the world, many of whom now hold senior academic positions in their home countries.
Through her exceptional contributions, Dr Shepherd has had, and continues to have, a profound impact on the lives of thousands of people affected by cancer around the world.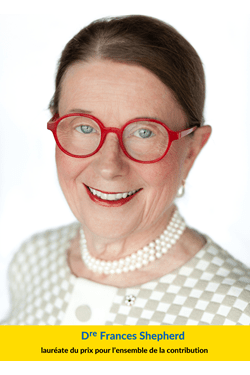 Canadian Cancer Society Robert L.Nobel Prize  @(Model.HeadingTag)>
Dr Samuel Aparicio
Recipient, 2022 Robert L. Noble Prize
Nan & Lorraine Robertson Chair in Breast Cancer Research, University of British Columbia/BC Cancer Agency
Canada Research Chair in Molecular Oncology, University of British Columbia/BC Cancer Agency
Distinguished Scientist and Head, Department of Breast & Molecular Oncology, BC Cancer
Professor and Distinguished University Scholar, Department of Pathology & Laboratory Meicine, University of British Columbia
Fellow of the Royal Society of Canada, Life Science Division
Dr Samuel Aparicio is a physician scientist and founder of biotech companies whose research has made a tremendous impact in the field of biomedical cancer research.
Dr Aparicio and his team have discovered the origins and consequences of changes in the number of copies of a particular gene in the genetic information of breast and ovarian cancers. This work has led to new therapeutic approaches and a better understanding of the different types of cancer. His team have also pioneered methods for understanding cancer evolution related to drug resistance and metastasis. Recently, they developed new technologies and approaches to studying single cells of triple-negative breast cancer tumours with the hope of advancing knowledge of this deadly cancer to better treat it. This has resulted in new genes being identified that that could change the way breast cancer is diagnosed and form the basis of next-generation treatments.
With funding from CCS, Dr Aparicio's team also tested a new and innovative type of experimental drug (which sticks to folded DNA structures called G-quadruplexes) and discovered potential new ways of treating people with gene mutations (BRCA1/2) that are associated with an increased risk of breast and several other types of cancer.
Dr Aparicio collaborates internationally with research groups in the US, UK on projects such as the genomic and biochemical analysis of lymphoma, ovarian cancer and several rare pediatric cancers. His contributions to academic research have been widely published in scientific and clinical journals such as Nature, Science, Cell and the New England Journal of Medicine. He is the recipient of numerous awards from academic and industrial institutions, in addition to many peer-reviewed grants from funding agencies.
Through his productive and leading-edge research, Dr Aparicio is taking cancer research to a new level and developing more therapies and clinical trials that have the potential to improve outcomes for people with cancer.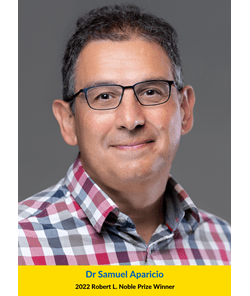 Canadian Cancer Society O. Harold Warwick Prize @(Model.HeadingTag)>
Dr Amit Oza
Recipient, 2022 O. Harold Warwick Prize


Head, Division of Medical Oncology & Hematology, Princess Margaret Cancer Centre, University Health Network
​Director of Clinical Research, Princess Margaret Cancer Centre
​Co-Director, Bras New Drug Development Program, Princess Margaret Cancer Centre
P​rofessor of Medicine, University of Toronto
​Co-Chair, Clinical Research Collaborative Centre, UHN
​Senior Scientist, Princess Margaret Cancer Research Institute
​Fellow, Canadian Academy of Health Sciences
Dr Amit Oza is a global leader in gynecological cancer research. He has been the principal investigator and co-investigator in more than 100 clinical trials, with many resulting in major changes to practice worldwide.
A medical oncologist specializing in cancers that affect the female reproductive organs, Dr Oza's research is focused on the design and development of early-phase clinical trials to test new anti-cancer drugs and on understanding the biology that contributes to cancer response or treatment resistance.
He has also made significant contributions to treating metastatic colorectal cancers and played a key role in the first randomized clinical trial that showed that combining Oxaliplatin, 5FU and Leucovorin chemotherapies (also known as FOLFOX) had better outcomes when compared with either therapy alone. This result brought significant changes to treatment and practice worldwide.
Dr Oza is the past co-chair of the US National Cancer Institute Gynecologic Cancer Steering Committee and past chair and executive member of the international Gynecologic Cancer InterGroup. His research team at Princess Margaret Cancer Centre is one of the leading clinical-translational groups focusing on treating and understanding the biology of gynecologic cancer. He has participated in or led seminal studies in gynecologic cancers that have resulted in the approval or use of targeted agents such as PARP inhibitors and anti-angiogenic agents internationally.
He is the principal and co-author of about 300 publications in major peer-reviewed journals, including New England Journal of Medicine, Lancet, CA, Lancet Oncology, Cancer Research, Journal of Clinical Oncology, Annals of Oncology, Investigational New Drugs and Clinical Cancer Research.
Through his tireless clinical and research efforts, Dr Oza is changing the paradigm of care for people with rare and difficult-to-treat cancers.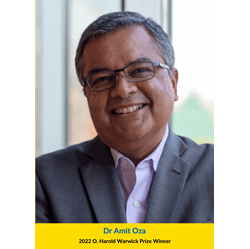 Canadian Cancer Society William E.Rawls Prize @(Model.HeadingTag)>
Dr Sumit Gupta
Recipient, 2022 William E. Rawls Prize
Associate Professor, Department of Pediatrics, Faculty of Medicine, University of Toronto

Senior Associate Scientist, Child Health Evaluative Sciences Program, Hospital for Sick Children Research Institute

Associate Professor, Institute for Health Policy, Management and Evaluation, University of Toronto

Associate Member, Institute of Medical Science, University of Toronto

Senior Adjunct Scientist, Cancer Research Program, Institute for Clinical and Evaluative Sciences


Dr Sumit Gupta is a pediatric oncologist who has made exceptional contributions to the field of childhood cancer research worldwide.
His main research goal is to improve health equity for vulnerable subpopulations of young people with cancer. One way he is doing this is by using health administrative and other population-based databases in Ontario to learn how childhood cancer survivors and their family members, particularly those with low income, are accessing mental health care. Some of his findings have been used to advocate for increased funding to develop and maintain specialty pediatric palliative care teams in several jurisdictions.
With funding from CCS, Dr Gupta and his team found that young people who have survived adolescent and young adult cancers are at substantially increased risk of adverse mental health outcomes like depression, anxiety and more, with those treated in adult cancer centres at particular risk. This research is critical to better understanding how cancer treatment affects the mental health of this group and is now being used to demonstrate the need for more research into effective interventions during and after cancer treatment that could lead to an improved quality of life.
Dr Gupta's work has had international reach. He has collaborated extensively with pediatric oncologists and policymakers throughout Latin America, the Caribbean and India. He has worked with organizations such as the World Health Organization and the International Union Against Cancer to engage in research and policy activities aimed at improving outcomes for children with cancer in low- and middle-income countries.
Through the remarkable progress he has made in his research and clinical practice, Dr Gupta is shaping the standard of care for vulnerable populations with cancer in Canada and around the world.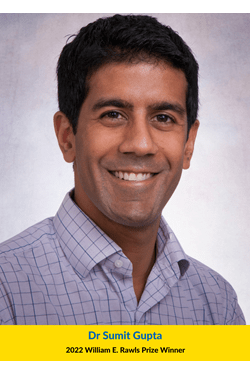 Canadian Cancer Society Bernard and Francine Dorval Prize @(Model.HeadingTag)>
Dr Housheng He
Recipient, 2022 Bernard and Francine Dorval Prize
Senior Scientist, Princess Margaret Cancer Centre, University Health Network
​Professor, Department of Medical Biophysics, University of Toronto
​Co-lead, RNA Nanomedicine Initiative, Princess Margaret Cancer Centre

Dr Housheng He is an experimental and computational biologist best known for his contributions to the field of cancer epigenetics and RNA biology, which have uncovered new diagnostic and treatment strategies for prostate and other cancers.

Cancer epigenetics refers to how cancer cells control gene activity without changing the DNA sequence, and Dr He's research program focuses on understanding the epigenetic mechanisms underlying cancer development, progression and treatment response. The goal is to identify epigenetic biomarkers and therapeutic targets to improve treatment outcomes of people with cancer.
RNA is a go-between from DNA to protein that is now recognized as one of biology's most versatile molecules. With the support of a CCS Innovation Grant and a Prostate Cancer Canada Rising Star Award (funded by the Movember Foundation), Dr He and his team conducted the first comprehensive, large-scale study of the role of RNAs in prostate tumour development and progression. It opened up a new area of cancer research, contributing to the development of new therapies that would eventually benefit people with cancer.
Dr He's research findings have been translated into practical applications, including ongoing clinical trials and 4 patents for novel approaches to target coding and noncoding RNAs for cancer therapy. He has authored more than 100 publications in high-profile journals, including Nature, Cell, Nature Genetics and Nature Cell Biology.
Through his outstanding scientific achievements, Dr He is making important contributions to the field of cancer epigenetics and improving outcomes for people with cancer.