From Halifax to Vancouver, the Mortgage Professionals Canada (MPC) Foundation is supporting and amplifying local fundraising efforts to create a nationwide impact.
Mortgage Professionals Canada is a trade association representing 15,000 individuals and over 1,000 member firms, including mortgage brokerages, lenders, insurers and industry service providers.
"Many mortgage brokers are very involved in their communities," says MPC Foundation board member John Kelly. "That's happening throughout Canada on a local and national level. Our goal is to support the efforts of our brokers, lenders and insurers and to recognize, promote and celebrate their respective causes and campaigns."
In 2021, the MPC Foundation committed $100,000 to support campaigns benefitting the Canadian Cancer Society (CCS) through a dollar matching program. The foundation also launched the Mortgage Professionals Care online magazine to celebrate and promote these campaigns.
"Cancer has touched everyone's lives," John says. "It resonates very strongly with our membership. Many of them are already involved in campaigns for various types of cancer."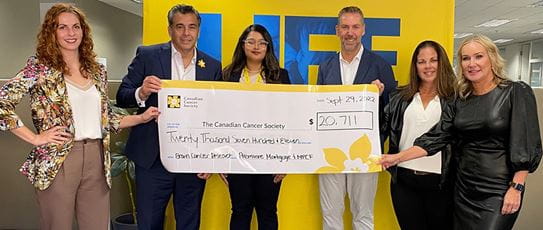 Clear Trust Mortgages and Tango Financial, two British Columbia–based brokerages, were among the first participants in the matching program and raised more than $57,000 for breast cancer research. Breast cancer is the second leading cause of death from cancer in Canadian women and accounted for 25% of all new cancer cases in women in 2022.

In May 2022, the MPC Foundation supported Premiere Mortgage Centre's raffle in memory of the centre's co-founder, Dave MacVicar, who died of brain cancer in 2015. The campaign raised more than $20,000 to support brain cancer research in Nova Scotia and Ontario. A cheque presentation in celebration of this generous contribution was held in Toronto.
"Often there is a personal element that drives people to give back," says John. "Aligning with brokers who have personal reasons for supporting a cause is very gratifying for the foundation."
This is just the beginning for the MPC Foundation's support of CCS, John says, and he is grateful for the instrumental roles Paul Taylor, former MPC president and CEO, and Daryl Harris, MPC Foundation chair, played in the program's launch.
"Anything we can do to help people get the care and support they need, that's something our organization is fully behind."