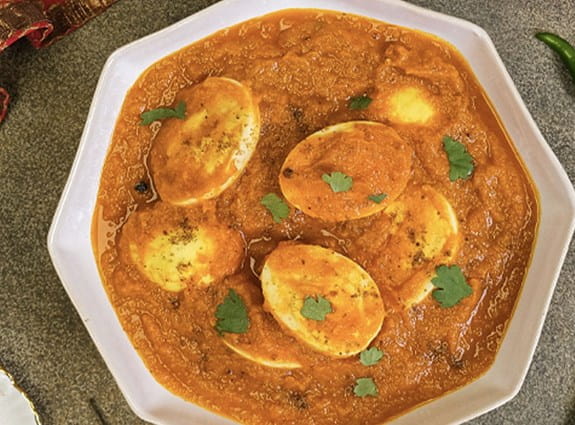 Boiled egg curry
This is a flavourful tomato-based boiled egg curry with mild spices of turmeric and cumin.

Recipe by Chefs Preena & Arvinda Chauhan @(Model.HeadingTag)>
Location: Toronto, ON
Servings: 2 - 4 people
Preparation time: 50 minutes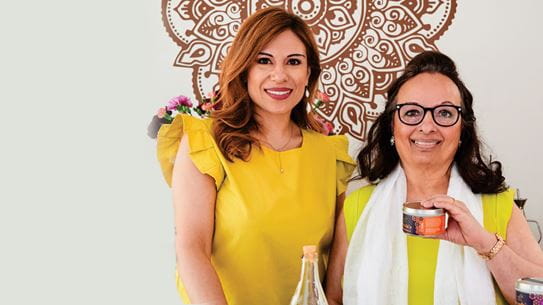 Ingredients @(Model.HeadingTag)>
1 large onion, peeled and coarsely cut
1½ cups water, plus extra if necessary
2 teaspoons extra-virgin coconut oil
3 to 5 green cardamom pods
¼ cup crushed unsalted tomatoes, canned
½ teaspoon coriander powder
½ teaspoon cumin powder
½ teaspoon turmeric powder
½ teaspoon sea salt, plus extra to taste
¼ teaspoon chili powder
½ teaspoon garlic paste
½ teaspoon ginger paste
½ cup coconut milk
4 hard-boiled eggs, sliced lengthwise
Garam masala, to garnish (optional)
Cilantro, finely chopped, to garnish (optional)
Preparation @(Model.HeadingTag)>
In a medium pot, add the onion and 1 cup of water. Partially cover the pot, bring it to a boil, and cook for 5 to 7 minutes, until the onions are softened. Drain and reserve the liquid onion stock. In a food processor or blender, purée the onions until smooth. You can purée onions and much more in KitchenAid® Blenders, while getting inspired to create new recipes.
In a medium non-stick pot on medium-high heat, heat the oil. Add the cardamom and fry for 30 seconds, until fragrant and they swell. Add the puréed onions and cook for 10 to 15 minutes, stirring until reduced and becomes slightly golden brown.
Reduce the heat to medium and add the tomato, and stir to combine. Sprinkle in the coriander, cumin, turmeric, salt and chili. Stir in the garlic and ginger.
Add the reserved liquid onion stock and the coconut milk. Simmer for 8 minutes or until the sauce slightly thickens. Add the sliced eggs, gently coating with the sauce. Add ½ cup of water, or more to get the desired consistency. Add salt to taste and simmer for a couple more minutes. You can simmer your favorite sauce on your
KitchenAid® Range
whether it's electric, gas, or induction.
Garnish with garam masala and cilantro, to taste. Serve with Brown Rice Khichadi with Turmeric & Mixed Vegetables or basmati rice or chapatis.