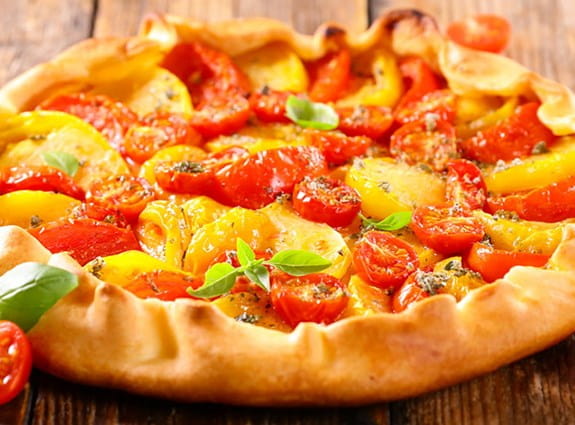 Tomato phyllo tart with summer herbs
Herbs add a lot of flavour to food, so you might like this snack or appetizer recipe if food tastes different during your treatment. Use any herbs you like, dried or fresh. If you need extra calories, use regular ricotta instead of low fat. Use puff pastry or whole wheat pizza dough instead of phyllo.

You can bake this dish, cut it up into squares and freeze it for later.
Recipe by: ELLICSR Kitchen
Ingredients @(Model.HeadingTag)>
10 phyllo dough sheets
3 tbsp extra virgin olive oil
1 cup low-fat ricotta cheese
ground pepper, to taste
1 tbsp lemon zest
2 cups roughly chopped tomatoes
pinch of salt
1 cup roughly chopped fresh basil, mint and thyme
2 tsp dried oregano
Preparation @(Model.HeadingTag)>
Preheat the oven to 375°F (190°C).
Bring the phyllo dough to room temperature to make it easier to work with. On a baking tray, brush a sheet of phyllo with some of the olive oil. Layer another sheet on top and continue to brush and layer the remaining sheets of phyllo. Roll the edges of phyllo about 2 inches in to make a crust.
Mix the ricotta with the lemon zest and pepper, and gently spread the mixture across the phyllo. Bake for about 15 minutes or until lightly golden brown and crispy.
While the dough is baking, put the chopped tomatoes in a bowl with a pinch of salt. Set it aside for at least 15 minutes to pull some of the water out of the tomatoes.
Use a slotted spoon to spread the tomatoes evenly across the cooked phyllo, draining out as much of the water as possible. Spread the fresh herbs and dried oregano across the phyllo, but keep the edges clean. Place the tray back into the oven for another 5 minutes. Allow to cool, slice and serve.
Nutrition facts @(Model.HeadingTag)>
Per serving
Calorie: 210
Fat: 11 grams
Carbohydrates: 21 grams
Fibre: 2 grams
Protein: 8 grams