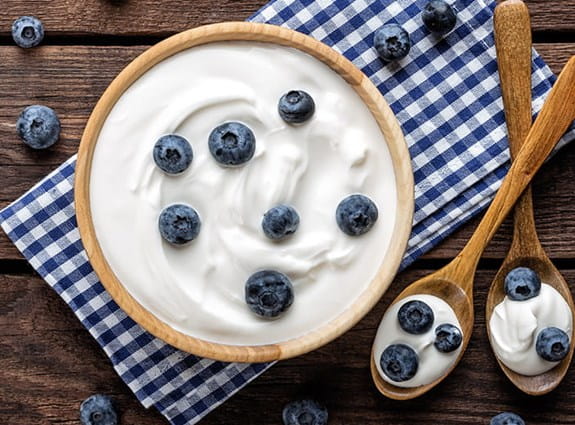 Super Greek yogurt
Use this recipe if you have a poor appetite and need extra protein. It's very easy. Just mix the ingredients in a bowl for a fast breakfast, snack or dessert. Use fresh fruit instead of frozen if it's available.
Recipe by: Afroze Ali, cancer survivor
Ingredients @(Model.HeadingTag)>
1/2 cup frozen blueberries or cherries
1 cup plain Greek yogurt
3 tbsp protein powder
2 tbsp 18% cream
2 tbsp honey
1/4 apple with skin, diced
Preparation @(Model.HeadingTag)>
Defrost the berries or cherries in a microwave or let them thaw on the counter for about half an hour.
When thawed, put the berries in a bowl and add all the other ingredients. Stir.
Nutrition facts @(Model.HeadingTag)>
Per serving (about 1 cup)
Calories: 227
Fat: 5 grams
Carbohydrates: 29 grams
Fibre: 2 grams
Protein: 17 grams