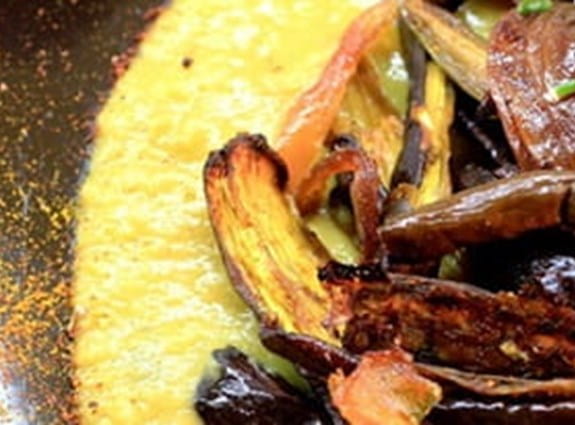 Roasted eggplant curry with coconut sambol
Eggplant will pick up most flavours from spices and herbs. It may help when you have taste changes during treatment and need strong seasonings and aromas.
Recipe and photo by: ELLICSR Kitchen
Ingredients @(Model.HeadingTag)>
Eggplant curry
3 cups sliced eggplant, cut into 1-inch strips
1 small onion, sliced
1/2 tsp ground turmeric
1/2 tsp ground cumin
1 lime
1 tbsp olive oil
pinch of sea salt
ground pepper, to taste
1/4 cup chopped fresh curry leaves (optional)
Coconut red lentils
1 tbsp olive oil
1 tbsp grated ginger
2 cloves minced garlic
1 cup split red lentils
3 cups water or vegetable stock
1/2 cup light coconut milk
pinch of sea salt
ground pepper, to taste
Coconut parsley sambol
1 cup fresh grated coconut (or dried, unsweetened coconut)
1 cup finely chopped parsley
1/4 cup finely chopped red onion
1 tbsp finely minced chili pepper (optional)
1 tbsp Maldive fish or fish sauce (optional)
2 tbsp lime juice
pinch of sea salt
ground pepper, to taste
Preparation @(Model.HeadingTag)>
Eggplant curry
Preheat the oven to 375°F (190°C).
Tear off a large piece of parchment paper. Run it under water and squeeze the paper into a ball to remove extra water. Unravel the paper and lay it flat on a baking tray.
In the middle of the paper, toss the eggplant and onion with the turmeric, cumin, olive oil, salt and pepper.
Add juice from half of the lime, and add the curry leaves, if desired.
Fold the ends of the paper together, and roll to seal it tight, tucking the ends under.
Place it into the oven to bake for 20 minutes.
Carefully unwrap the parchment paper after 20 minutes.
Squeeze the rest of the lime juice on top and put it back in the oven for another 20 minutes, uncovered.
Lentils
Put the olive oil into a medium pot over medium heat.
Add the ginger and garlic and cook for 1 minute.
Stir in the lentils and add the water or stock. Cover and cook until soft, for about 15 minutes.
Remove the lid, add the coconut milk, salt and pepper. Stir through and remove from the heat.
Coconut sambol
Combine all the ingredients together in a bowl and mix well.
Place the eggplant mixture on top of the cooked lentils and serve with the sambol.
Nutrition facts @(Model.HeadingTag)>
Per serving
Calories: 320
Fat: 12 grams
Carbohydrates: 41 grams
Fibre: 8 grams
Protein: 14 grams