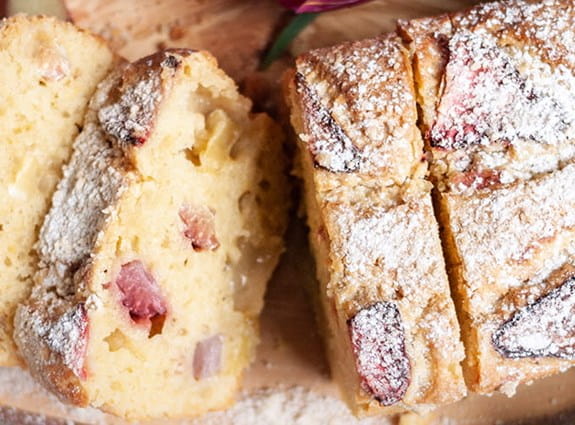 Rhubarb nut bread
This recipe is from my mom. She battled with cancer for about 8 years. She loved her vegetable garden and would give me rhubarb every summer. I would make this loaf and share it with her and my family. You might like this rhubarb flavour if other foods taste too sweet for you. You can freeze extra slices of the bread and take them out for easy snacks.
Recipe by: Gayle, caregiver
Ingredients @(Model.HeadingTag)>
Soured milk
1 tsp white vinegar
3/4 cup milk
Loaf
1/4 cup corn oil or other vegetable oil
1 egg, beaten
3/4 cup soured milk (see above)
1 tsp vanilla
1 cup sugar
2 cups all-purpose flour
1/2 tsp baking powder
1/2 tsp baking soda
1/4 tsp cinnamon
1 1/2 cups diced fresh rhubarb
1/2 cup chopped walnuts or pecans
Topping
1 tbsp butter
2 tbsp sugar
Preparation @(Model.HeadingTag)>
Preheat the oven to 350°F (180°C). Lightly grease a 9 in × 5 in (23 cm × 13 cm) loaf pan with butter.
Prepare soured milk by putting the vinegar in a cup and adding milk to make 3/4 of a cup. Set aside.
In a medium size bowl, beat the oil, egg, soured milk, vanilla and sugar until smooth.
In a large bowl, sift together the flour, baking powder, baking soda and cinnamon.
Quickly fold the liquid ingredients into the large bowl with the dry ingredients, blending just enough to moisten. Fold in the rhubarb and nuts.
Spoon the mixture into the prepared loaf pan.
To make the topping, mix the butter and sugar together and sprinkle it on top of the batter.
Bake for 1 hour or until you can put a toothpick into the centre of the loaf and it comes out clean.
Let it cool a few minutes in the pan. Then turn the bread out onto a wire rack to cool.
Wrap in clear plastic wrap and store overnight to let the flavours develop before slicing.
Makes 1 loaf (about 12 slices)
Nutrition facts @(Model.HeadingTag)>
Per slice
Calories: 251
Fat: 11 grams
Carbohydrates: 36 grams
Fibre: 2 grams
Protein: 4 grams