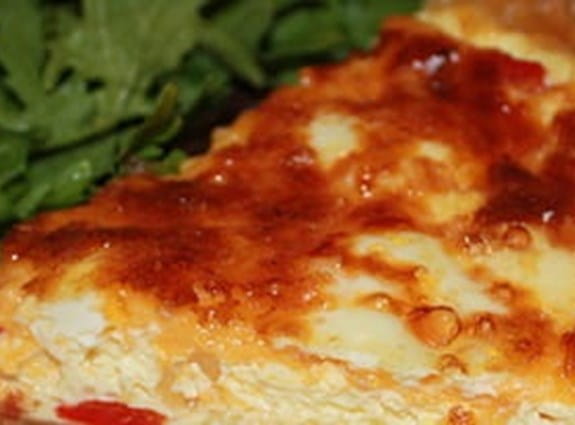 Red pepper quiche
Here's a high-calorie and high-protein meal that could be prepared a little bit ahead of time and warmed up when you don't have a lot of energy to cook.
Recipe and photo by: Kin's Farm Market
Ingredients @(Model.HeadingTag)>
Pie shell
1 1/2 cups flour
6 tbsp butter, room temperature
2 tbsp water
1 egg white, lightly beaten

Filling
4 eggs
1 cup 1% milk
1 onion, caramelized or pan fried
1 red bell pepper, sliced, pan fried
2 cups shredded cheddar cheese
salt and pepper
Preparation @(Model.HeadingTag)>
Pie shell
Mix flour and butter together with your hands until dough comes together into a ball.
Add the water and extra butter or flour as necessary to develop the right consistency.
Spread the dough on a 9 in (23 cm) round tart pan.
Lightly beat the egg white and spread on top of the dough with a brush.
Remove the excess dough and place the quiche shell in the fridge for half an hour. While the shell hardens in the fridge, prepare the filling
Filling
Preheat the oven to 350°F (180°C) and beat the eggs and milk with salt and pepper until fluffy.
Place the onion and bell pepper on the bottom of the quiche shell, cover it with the shredded cheddar cheese, and then cover it with the milk and egg mixture.
Cook the quiche in the oven for about 45 minutes to 1 hour, or until you stick a knife in and it comes out clean. Serve with a side green salad.
Nutrition facts @(Model.HeadingTag)>
Per slice
Calories: 467
Fat: 30 grams
Carbohydrates: 29 grams
Fibre: 2 gram
Protein: 20 grams