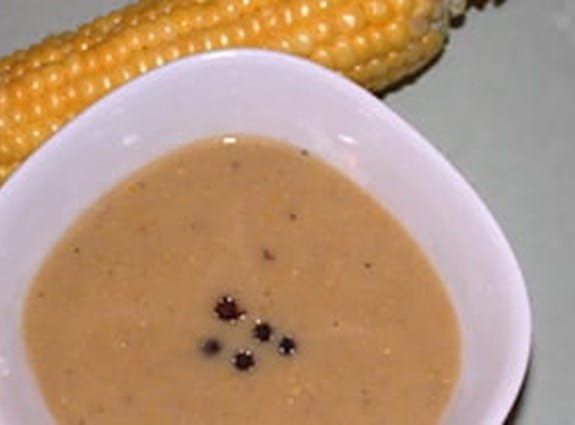 Peppercorn corn bisque
This flavourful, gluten-free soup can be a good choice if the foods you usually eat taste different now. The cream could be changed to skim or 1% milk to lower the fat and calories.
Recipe by: Dylan Kiernan and David Lee, students from the culinary arts program, Vancouver Community College
Ingredients @(Model.HeadingTag)>
2 tbsp butter
1 large yellow onion, sliced
7 garlic cloves, roasted
1 cup sliced yellow pepper
1/8 tsp salt
16–20 cups prawn or fish stock
5–7 cobs of corn, with corn removed (or 3–4 cups of frozen corn)
1/2–1 cup cooked brown rice
1/2–1 cup table cream
peppercorns
Optional garnishes:
1/4 cob of corn, grilled
basil oil and scallions
Preparation @(Model.HeadingTag)>
Heat the butter in a large pot over medium heat.
Stir in the onion and cook until soft and caramelized.
Stir in the garlic and yellow pepper, and season with a pinch of salt.
Cook on low heat for 5 minutes or so to develop flavour.
Pour in the stock and bring to a simmer.
Husk and cut corn off the cob or use frozen corn.
Stir the corn into the broth, and simmer about 10 minutes.
Reduce heat to a low simmer and cook for 25 minutes.
Turn off the heat and prepare the blender or food processor for puréeing.
Add the rice and blend the liquid in batches.
Pass the liquid through a fine sieve or fine strainer into a pot as it comes out of the blender.
After all the liquid is blended, bring it back to a low simmer.
Add the cream in a steady stream while stirring the bisque until fully combined. (If you add milk instead of cream, use less of this liquid to keep the mixture thick.)
Add salt and peppercorns to taste, making sure to add a few extra peppercorns to enhance the flavour.
Serve in a warm bowl with garnishes, if desired.
Nutrition facts @(Model.HeadingTag)>
Per serving
Calories: 506
Fat: 20 grams
Carbohydrates: 55 grams
Fibre: 5 grams
Protein: 31 grams