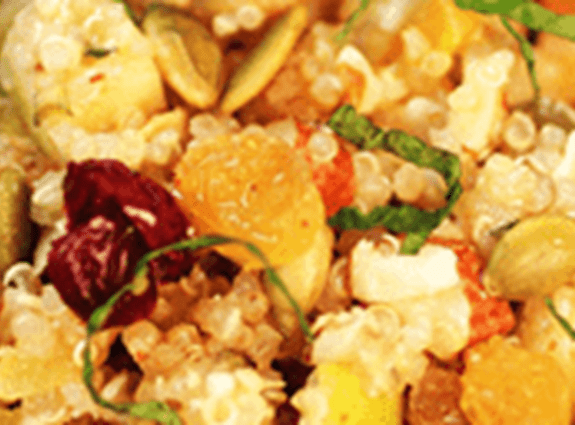 Nut and fruit quinoa salad
Quinoa is a seed that can be prepared like whole grains such as rice or barley. It is easy to find these days and is a good vegetarian option. The sweet-and-sour mix in this salad could make an appetizing meal if your taste buds have changed during cancer treatment.
Recipe by: Evelyn McQuaid, Canadian Cancer Society volunteer
Photo by: ELLICSR Kitchen
Ingredients @(Model.HeadingTag)>
Salad
1 cup quinoa
2 cups water
1/2 cup sliced almonds
1/2 cup apple, chopped
1/2 cup dried apricots, chopped
1/4 cup toasted unsalted sunflower seeds
1/4 cup dried cranberries
1/4 cup raisins
2 tbsp mint, finely chopped
1/2 cup maple vinaigrette (see below)
Maple vinaigrette, 1 cup

1/3 cup maple syrup
1/4 cup cider vinegar
1/4 cup honey mustard
2 tbsp canola oil
2 tbsp water
Preparation @(Model.HeadingTag)>
Salad
Combine the quinoa with the water and bring to a boil.
Reduce heat, cover and simmer 20 minutes until the quinoa is tender.
Let stand 5 minutes and fluff with a fork.
Transfer to a large bowl and add the remaining ingredients.
Maple vinaigrette
Combine in a jar and shake well.
Use half on salad. (Stores in the fridge for up to 1 week.)
Nutrition facts @(Model.HeadingTag)>
Per serving (1/2 cup)
Calories: 313
Fat: 11 grams
Carbohydrates: 47 grams
Fibre: 5 grams
Protein: 8 grams