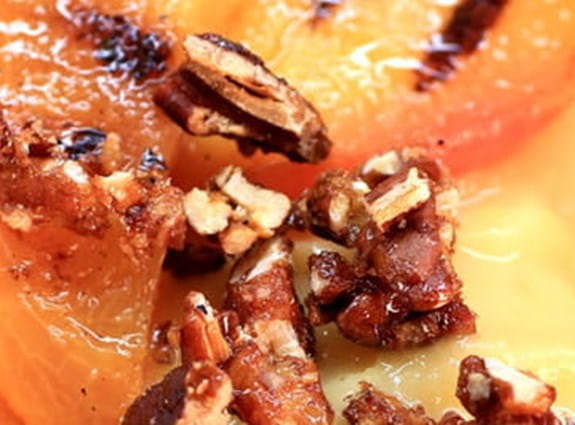 Grilled peaches with vanilla peach frozen yogurt
This delicious dessert made with Greek yogurt is high in protein and very easy to make. You can eat this anytime but especially to get relief if you have a dry mouth or sore mouth or throat.
Recipe and photo by: ELLICSR Kitchen
Ingredients @(Model.HeadingTag)>
3/4 cup Greek yogurt
3 tbsp maple syrup
1 tsp vanilla extract
1/2 tsp ground nutmeg or cinnamon
2 cups sliced frozen peaches
2 fresh peaches, sliced
1/4 cup pecans (optional)
Preparation @(Model.HeadingTag)>
In a food processor, add the yogurt, maple syrup, vanilla, nutmeg and frozen peaches. Pulse until broken down and creamy. Add some water if necessary, or if it's too soft, add more frozen peaches.
Pour into a baking dish and place in the freezer to firm up for 10 minutes.
Grill the peach slices over the BBQ or in a grill pan for about 2 minutes per side. Serve with the frozen yogurt.
Top with pecans, if desired.
Nutrition facts @(Model.HeadingTag)>
Per serving
Calories: 80
Fat: 0.2 grams
Carbohydrates: 17 grams
Fibre: 1 gram
Protein: 4 grams