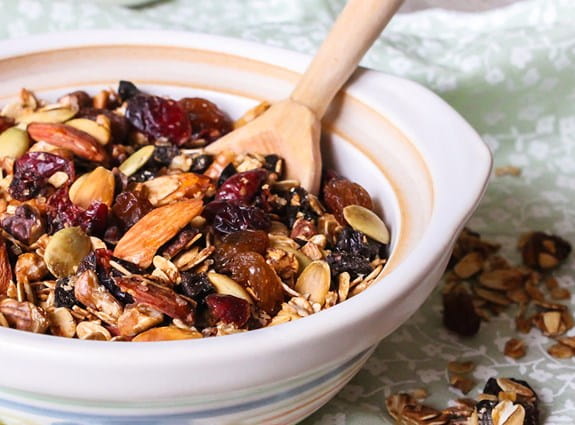 Granola
This tasty snack is high in protein and calories and can be enjoyed at any time. It can be made ahead of time, stored and eaten later.
Recipe by: Michelle LeBlanc, chef/owner, Chinched Bistro, St John's, NL
Ingredients @(Model.HeadingTag)>
5 cups quick-cooking oats
5 cups traditional rolled oats
2 1/2 cups mixed nuts
2 1/2 cups seeds (sunflower, sesame, pumpkin, poppy)
1/4 cup chia seeds
1/4 cup hemp seeds
1/4 cup wheat germ (optional)
1 1/2 cups cranberry cocktail
1 tbsp cinnamon
2 tsp salt
3/4 cup brown sugar
1/4 cup corn syrup
1/2 cup oil
4 cups mixed dried fruit
Preparation @(Model.HeadingTag)>
Preheat the oven to 300°F (150°C).
In a large bowl, mix to combine the oats, nuts, seeds and wheat germ.
In a medium saucepan, combine the juice, cinnamon, salt, brown sugar, corn syrup and oil.
Bring to a boil and simmer for 5 minutes.
Pour the hot liquid over the dry ingredients and mix to combine.
Spread the mixture over 2 large baking sheets and bake for 30 minutes.
Check every 10 minutes and stir to ensure even cooking.
Once the granola is golden brown, add the dried fruit and bake for an additional 10 to 15 minutes.
Cool and store in airtight bags or containers.
Nutrition facts @(Model.HeadingTag)>
Per 1/2 cup
Calories: 433
Fat: 21 grams
Carbohydrates: 53 grams
Fibre: 8 grams
Protein: 11 grams