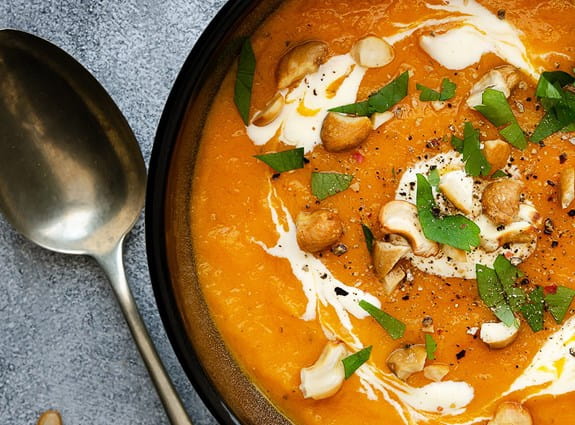 Butternut squash soup
This soup is a good comfort food when you're not feeling well. You can double the recipe and freeze it to be quickly heated up. Or you could freeze the roasted squash to make a fresh batch of soup later. Add whipping cream to the dish if you want extra calories.
Recipe by: Marjorie Matheson, cancer survivor
Ingredients @(Model.HeadingTag)>
Roasted butternut squash
1 tbsp olive oil
4 cups peeled and roasted butternut squash
Soup
1 tbsp olive oil

1 cup chopped onion
1 large garlic clove, minced
6 cups chicken stock
1 tsp salt
1 tsp chopped fresh parsley
1/2 tsp chopped fresh thyme
1/4 tsp pepper
1/2 cup whipping cream (optional)
Preparation @(Model.HeadingTag)>
Roasted squash
Preheat the oven to 350°F (180°C).
Cut the squash in half and remove the seeds.
Rub the inside with olive oil and place cut side down on a cookie sheet.
Cook until tender, 35 to 45 minutes.
When it is cool enough to handle, scoop out the cooked squash. (Or you can peel and cut the squash into chunks before roasting.)
Soup
In a large pot, sauté the chopped onion in the oil until tender.
Add the garlic and sauté for 30 seconds.
Add the chicken stock, squash, salt, parsley, thyme and pepper.
Bring to a boil, reduce the heat and simmer uncovered for 30 minutes.
Purée with a hand blender or in a regular blender in small batches.
Return the mixture to the pot and bring to a boil again.
Reduce the heat to low and simmer uncovered for 30 minutes. Stir in the cream.
Nutrition facts @(Model.HeadingTag)>
Per serving (about 1 cup)
Calories: 242
Fat: 13 grams
Carbohydrates: 26 grams
Fibre: 3 grams
Protein: 8 grams