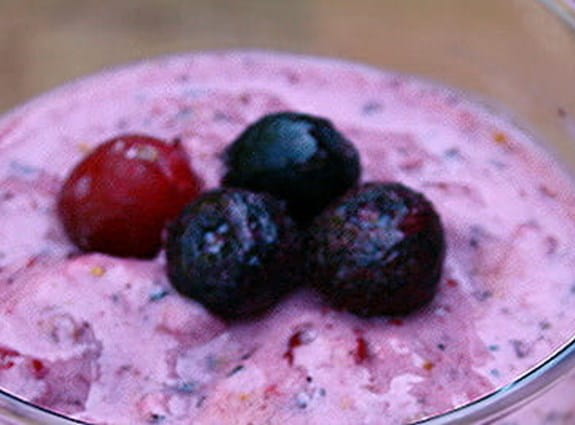 Blue cranberry smoothie
You can sip this simple smoothie when you have a poor appetite and need hydration. It's also a good option if you have a sore throat or find food hard to swallow. Try using an almond drink or soy beverage in this recipe instead of the water for extra calories and protein. Or replace the yogurt with any kind of milk or a soy or nut beverage for a thinner texture.
Recipe by: BC Blueberry Council
Ingredients @(Model.HeadingTag)>
2 cups blueberries, fresh or frozen
1 cup fresh cranberries, whole
1 1/2 cups 2% to 4% vanilla yogurt
1 1/2 cups cranberry juice blend or cocktail
2 cups water
2 tbsp fresh mint
Preparation @(Model.HeadingTag)>
Put all the ingredients into a blender and blend until smooth.
Pour into chilled glasses and serve immediately.
Nutrition facts @(Model.HeadingTag)>
Per serving
Calories: 215
Fat: 2 grams
Carbohydrates: 46 grams
Fibre: 3 grams
Protein: 5 grams