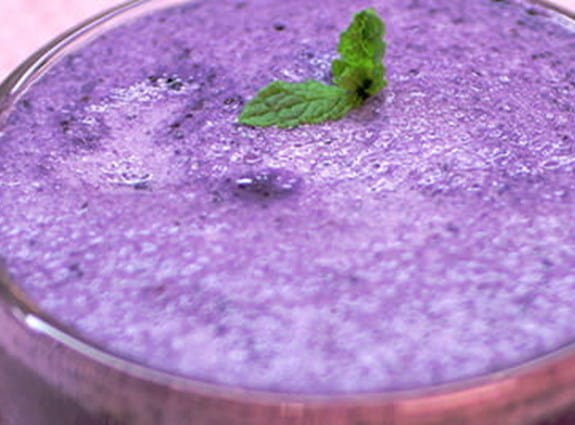 Berry egg-white shake
This shake is high in calories and protein. It can be a good option if you have a sore throat or find food hard to swallow. If you want to use different fruit, pieces of mango also work well in this recipe. Use only pasteurized egg whites, not raw eggs. Pasteurized egg whites are processed to get rid of bacteria. The product is usually sold in a liquid carton.
Recipe by: Afroze Ali, cancer survivor
Photo by: ELLICSR Kitchen
Ingredients @(Model.HeadingTag)>
1/2 cup frozen blueberries or cherries
1 cup pasteurized egg whites
3 tbsp protein powder
2 tbsp 18% cream
2 tbsp honey
2 tbsp water
Preparation @(Model.HeadingTag)>
Put all the ingredients into a blender.
Blend until smooth and serve.
Nutrition facts @(Model.HeadingTag)>
Per serving (about 1 cup)
Calories: 197
Fat: 3 grams
Carbohydrates: 24 grams
Fibre: 2 grams
Protein: 19 grams