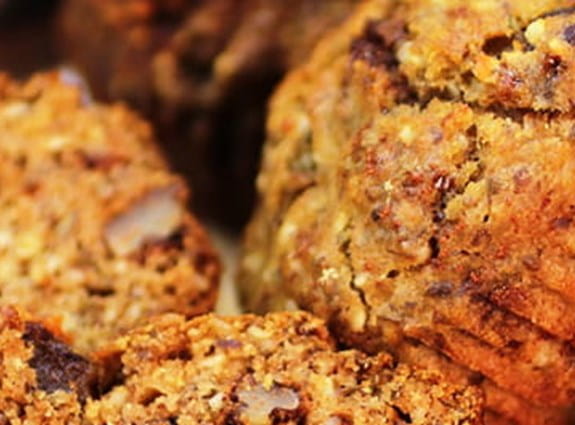 Applesauce spice muffins
This tasty muffin recipe is high in fibre, so it could help with constipation. The muffins are soft and easy to swallow. Instead of the dates, you could use raisins, dried cranberries or any other dried fruit. You could also use different spices, or you could add more or less of them, depending on your preferences. As an alternative, try using honey instead of brown sugar and a bit less applesauce. The muffins still turn out great and are definitely a bit moister in texture. These muffins freeze very well and can be thawed in the microwave for about 20 seconds.
Recipe by: Marilynn L., cancer survivor
Photo by: ELLICSR Kitchen
Ingredients @(Model.HeadingTag)>
1 cup all-purpose flour
1 tsp cinnamon
1/3 cup wheat germ
1/4 tsp ground cloves
1/3 cup brown sugar
1/4 tsp allspice
1/4 tsp baking powder
3/4 tsp salt
1 tsp baking soda
1/4 cup ground flax
1/8 cup ground chia seeds
1/8 cup hemp hearts
1/4 cup canola oil
1 egg, beaten
1/3 cup water
1 cup + 2 tbsp unsweetened applesauce
12 dates, chopped
1/3 cup pecans, chopped (optional)
Preparation @(Model.HeadingTag)>
Mix the dry ingredients except the dates and pecans in a large bowl.
Combine the liquid ingredients and add them to the dry mixture, mixing until almost blended.
Stir in the dates until just blended. Add the pecans, if desired. (I took the nuts out when I could no longer chew them properly.)

Divide the batter among 12 large muffin cups and bake at 350°F (180°C) for 20 minutes.
Remove from the pan and cool.

Nutrition facts @(Model.HeadingTag)>
Per muffin
Calories: 219
Fat: 11 grams
Carbohydrates: 27 grams
Fibre: 4 grams
Protein: 5 grams