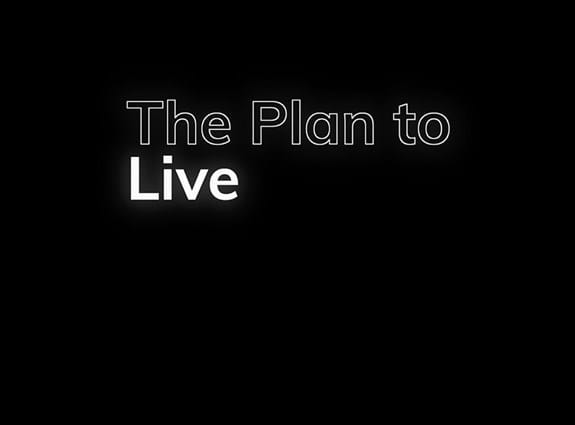 Laura's story: The plan to live
When cancer came back after 4 and a half years being cancer-free, Laura created a new plan for living with stage 4 breast cancer. She keeps shorter work hours and found support through the CancerConnection community. To her, "living is the ultimate plan."
[Music playing]
Laura's voice: My sister and I celebrated the end of cancer 1.0 treatment with champagne in the chemo room. I completed the treatment plan and was cancer-free. I got a tattoo and went back to the plan of living my life. I am a wife, a mother, and a manager, and I have always been a planner. I also have stage 4 breast cancer, and cancer isn't in anyone's plan.
The cancer 1.0 plan was to pass the magic five-year cancer-free mark. But at 4 and 1/2 years, I was diagnosed with cancer 2.0. Breast cancer was back in my liver. I had been tired. I planned to go to the doctor, but one evening, I had a lot of abdominal pain. My sister convinced me to go to emergency the next morning. Probably your gallbladder, she said. The emergency doc was also positive it was my gallbladder.
I said, can you please check my liver? I want to make sure my cancer isn't back. He said, why do you think your cancer is back? I told them, my friend's cancer came back in her liver. The ultrasound confirmed it. My gallbladder was unremarkable, but my liver was fully involved with metastatic cancer. I was alone, and I drove myself home to tell the family.
A few days later, I was admitted to hospital to start chemo. My oncologist said we had days to turn the car around, or I would have no treatment options. How could I be dying? I was just tired.
My daughter, who was living in Australia, booked a flight home. I thought, she thinks I'm going to die. My son was terrified, but he hid it well. My husband said his cave was not deep enough for this. He was going to have to shave his wife's head for the second time. My sister took family photos while I still had hair. I was thinking, good. We'll have a recent family photo for the memorial, already creating a new plan.
If I wanted to live, the fight was going to be hard, and the cancer 2.0 treatment plan was going to be endless. A big part of my life is my career and my team. My boss was on vacation, and I was frantically texting him to call me. I broke the news to my team that I was going to be away for a while and put someone in my place.
Within a month, my liver enzymes started to improve. Chemo was working. I might live after all. So I created a new plan. My new plan adjusts around treatments and scans. I am back at work and constantly have to remind people that I have cancer and can't work 10-hour days. I also have a new team on CancerConnection. I comment on posts about my experience, and it also allows me to share my fears. I joked with a fellow chemo patient that I had bought the lifetime package. It was a deal because these treatments, they will continue forever.
Today, I am stable. Scans are checkpoints against the new plan. I hope I don't have to adjust this plan any time soon, but if I do, I will because living is the ultimate plan.