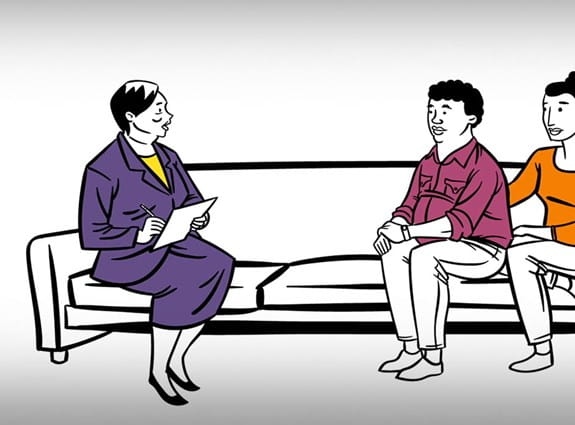 Social workers can help you cope
Cancer can be hard to understand and stressful to cope with. These short, animated videos on cancer-related topics present information that is simple, straightforward and sympathetic.
The Cancer Basics video series is proudly sponsored by BMO.
2 min. read
When you have cancer, a social worker can help you cope with questions and worries right from the start. This video shows you how.
Voice-over: Social workers can help you cope.

Having cancer affects every part of your life. After my diagnosis, I had so many questions and worries, and didn't know where to turn. My doctor suggested I speak with a social worker.

I learned that a social worker is an important part of my health care team and could help me and my family cope. When I struggled with how to tell my family and friends about the cancer, she suggested ways to share this news with everyone.

I didn't know what to expect when I started treatment. My social worker helped me make a list of questions to ask my doctor so I could get the answers I needed to feel better.

I wasn't the only one who found it hard to cope. My wife did, too. The social worker taught both of us how to manage our stress better. She also recommended a support group for me so I could connect with people who knew what I was going through.

She helped with practical matters, too. I didn't know how I would get to the hospital for treatment every week. She referred me to a local volunteer program that offered rides.

I also worried about money, because I had to be off work for a long time. My social worker showed me how to apply for financial help.

After finishing treatment, there were still challenges. My social worker helped me cope with changes to relationships and going back to work.

Everyone copes with cancer differently. Just remember that you are not alone. Like me, you may find that a social worker can be a big help.

The Canadian Cancer Society can also help you. Visit cancer.ca or call 1-888-939-3333.