Hope for ovarian cancer research
Dr David Huntsman hopes his advancements in ovarian cancer research will lead the way for the next generation of scientists.
5 min. read
A research grant from the Canadian Cancer Society (CCS) can change the lives of so many. It supports new research breakthroughs but can also inspire someone to make a difference at the beginning of their career. Dr David Huntsman knows this first-hand. His first research grant enabled him to make key discoveries to help families deal with hereditary stomach cancer. And 20 years later, he hopes his work will inspire future generations to create a brighter future.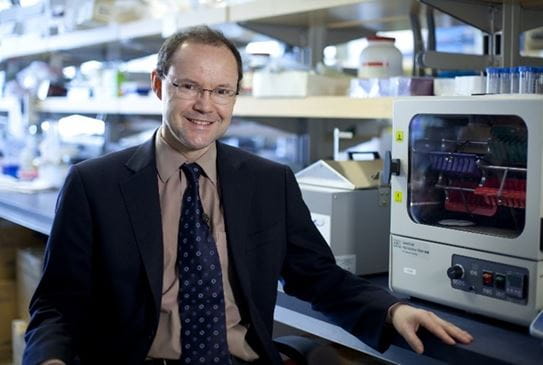 Propelling research progress to help families across Canada @(Model.HeadingTag)>
When he began his medical career as a family doctor, Dr Huntsman quickly felt that there wasn't enough information about some diseases that were affecting people every day. To address this, he specialized in pathology and genetics and then became a researcher. Working closely with families from British Columbia, Newfoundland and across Canada, he eventually advanced our understanding and treatment of hereditary stomach cancer.
"It was incredibly rewarding to get to know the beneficiaries of my research and, as I grew up in St. John's, to be able to give back to that community," he said.
After building a globally impactful research team, Dr Huntsman decided to change course. A new team needed his help and offered an opportunity for him to make a difference through research.
Creating a team to change the future of ovarian cancer @(Model.HeadingTag)>
Dr Dianne Miller was the leader for ovarian cancer care in British Columbia when she contacted Dr Huntsman.
She said, 'I'm sick of seeing women die from this disease. If we form a team to research ovarian cancer, we could do so much.' I realized we had the key pieces required to build an impactful team and so, I offered to put together a business plan.
Along with other doctors and researchers with a variety of expertise, OVCARE was formed and supported by the BC Cancer, Vancouver General Hospital and UBC Hospital foundations.
The team had a vision to make new discoveries for ovarian cancer that would be clinically relevant to patients. Some of the discoveries they made together have now become the standard when diagnosing ovarian cancer.
"We realized that ovarian cancer isn't a single problem - it's multiple problems," Dr Huntsman said. "We proved there are 45 different types of ovarian cancer, and they should be treated that way in the clinic."
When the OVCARE team learned that ovarian cancers start in or pass through fallopian tubes, as opposed to starting in the ovary, this created an opportunity for cancer prevention. And with this discovery, they started a prevention program. They now recommend that fallopian tubes be removed in surgery whenever possible to remove or massively reduce the risk for ovarian cancer. The OVCARE team has since expanded its mandate to embrace population-based approaches to decrease death and suffering from gynecologic cancers by 50%.
"Along with local support, funding through CCS grants and career development awards has legitimized our efforts and been critical in enabling us to achieve our objectives," Dr Huntsman said.
Two minutes with CCS-funded researcher Dr David Huntsman
[David Huntsman appears on screen]
David Huntsman: My name is David Huntsman. I'm a pathologist and clinical molecular geneticist. And I've had the privilege of working for CCS for over 20 years. My first research grant was funded by CCS.
[Yellow screen title appears]: Can you tell us about your first CCS-funded research grant?
David Huntsman: My initial research projects focused on a couple of things. One, I was doing some breast cancer research and the second was working with families with hereditary stomach cancer. It was incredibly rewarding for me, that I got to work closely with families and in particular a couple of very large families from Newfoundland who all hailed from Placentia Bay. I got to see research in action where we went from discovering things to applying it to help individuals with whom we made those discoveries. That research is now clinical care. It's so gratifying to see that the work we did directly led to changes in practice. It impacted some individuals directly, but now the impacts of the knowledge which we created with CCS funding are experienced by not just that family, but families around the world.
[Yellow screen title appears]: What does CCS-funding mean to you?
David Huntsman: Having national and international grants like CCS or NIH grants, it's the fuel in the tank. The machine is built locally, but it has to put fuel in the tank. One of the greatest strength for the Canadian Cancer Society over many, many years has been the vetting of research projects. So for researchers everywhere, when you get a large grant from the Canadian Cancer Society, it's like a gold medal... you hang it on the wall.
[Yellow screen title appears]: Do you have a message for our donors?
David Huntsman: If you want to use your generosity to help all Canadians, giving to the Canadian Cancer Society is a way to ensure that research which is needed to find solutions to the problems we see day to day, it's money well spent.
Giving hope to future generations @(Model.HeadingTag)>
Being a mentor for early-career cancer researchers is very close to Dr Huntsman's heart. He advocates for graduate students to receive better funding and gives advice to help them along their own paths whenever he can.
The best advice I can give would be to work on something you feel passionate about. And to work on something where you will see the advantage in your community. It's incredibly rewarding to see the impact of your work on the people around you.
But above all else, Dr Huntsman hopes people across Canada continue to support CCS.
"All people in Canada should share aspirations and rights such as the right to top-quality cancer care," he said. "As well, that solutions can be found and shared across Canada. CCS is an organization that we all share and can help make that happen."