Pinks Days in Bloom: A Growing Movement
Through her Pink Days in Bloom initiative, Linda Ryan united communities for the cancer cause and raised an incredible amount for Daffodil Place!
2 min. read
In 2010, Linda Ryan was diagnosed with breast cancer. While recovering from treatments the following year, she established Pink Days in Bloom—a network of awareness events to bring survivors, those newly diagnosed and their supporters together to help raise money for the Canadian Cancer Society.
Pink Days in Bloom is rooted in the healing powers of gardens and nature. Through these events, Linda and her team of dedicated volunteers raise funds in support of those affected by breast cancer, for improved cancer care and innovative breast cancer research.
"The Pink Days in Bloom awareness and fundraising activities offer an opportunity to connect with people and rally the community for a cause that affects us all in one way or another," says Linda. "It's about making connections over flowers, tea and the ties that bind us."
Pink Days in Bloom raised over $15,000 in 2021, achieving Linda's goal of covering one year of nights at Daffodil Place for a patient and caregiver. Since her campaign began, Linda and the volunteers have raised nearly $200,000 nationwide for life-saving breast cancer research and life-changing community programs!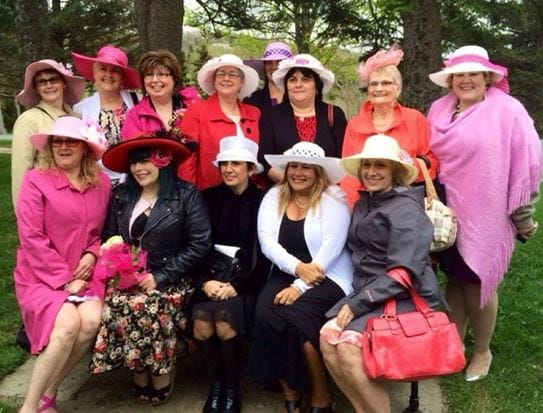 Linda has now been recognized locally, nationally and internationally for her leadership. She received Canada's Volunteer Award for Community Leader (Atlantic Region), Canada's Sovereign Medal for Volunteers (formerly the Governor General of Canada's Volunteer Award), the YWCA Women of Distinction Award and Outstanding Fundraising Volunteer from the Association of Fundraising Professionals in Newfoundland and Labrador.
"I am filled with gratitude and I deeply appreciate that Pink Days in Bloom has been recognized both nationally and internationally," says Linda. "There are some days on this journey when strength and hope are hard to muster, after thinking of the many beautiful souls who have left us too soon because of this horrible disease. I humbly accept these awards on behalf of all my Pink Sisters who continue to inspire, motivate and share their strength with me and others every day."
What's next for Linda and Pink Days in Bloom @(Model.HeadingTag)>
Pink Days in Bloom represents hope and a future without breast cancer. Linda continues to unite people, businesses, organizations and communities in support of breast cancer research and community programs.
"I know first-hand the meaning of a cancer diagnosis and the impact it can have on your life and the lives of family and friends. Once you have walked through the 'cancer door,' there is no turning back—everything in your world changes," says Linda. "I want to say, 'Thank You' to everyone who has contributed to Pink Days in Bloom in some capacity; your volunteerism and supportive partnerships are helping us live longer, healthier and happier lives."