CIBC employee finds a greater outlook and new inspiration at CIBC Run for the Cure
When Konstance was diagnosed with cancer, her family made the most of the time they had and became passionate supporters of CIBC Run for the Cure.
3 min. read
Even though breast cancer didn't run in her family, Konstance knew how important it was to begin scheduling regular breast cancer screening appointments once she turned 50. Following her first screening, she thought she was in the clear. But when she noticed a lump around her 51st birthday, her life was soon upended.
"I really had to focus on what needed to get done," says Konstance. "My doctor said I had an aggressive form of triple positive breast cancer, which only five years ago could have left me with no options. I learned there had been some advances in research since then, but my treatment was still very piecemeal—with many doctors involved. I felt like I had to take charge of my own care for myself and my family.
Staying determined for her loved ones @(Model.HeadingTag)>
As she took control of her health, Konstance knew there were many people in her life that supported and loved her, inspiring her to maintain an optimistic mindset.
"A lot of my motivation came from my kids. I'd never felt worse in my life, but I needed to stay positive for them. I could handle my own fear, but it was horrible to know they were scared of losing their mom."
With their help, they found ways to take their attention away from treatments and made new memories they can look back on happily.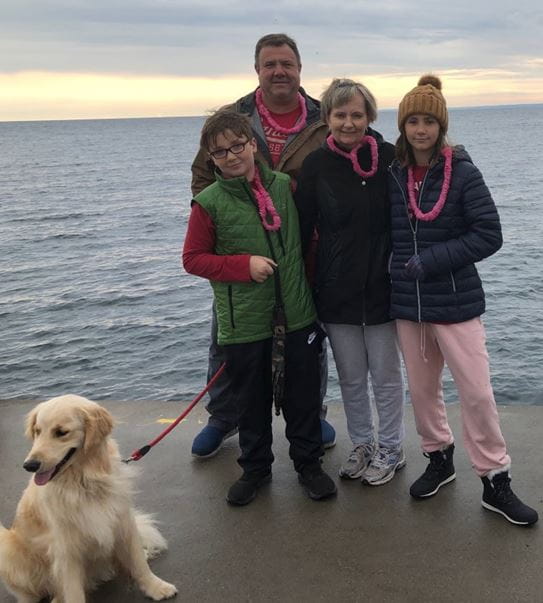 "We found silver linings and I used this time to teach my children how negative events in life can lead to positive outcomes. Our kids always wanted a dog, but we never had the time to raise one. So, in my recovery we finally got a puppy, who has now blessed our lives in so many ways."
The motivation to appreciate their time also compelled her to connect with others who were pushing themselves to make an impact on the cancer cause. She connected with survivors on TikTok, and through her work, became more interested in fundraising for CIBC Run for the Cure.
"I was able to see the incredible impact of our fundraising through attending Run for the Cure events. I can never say thank you enough to all who volunteer, donate and participate every year. I wouldn't be here without you and I'll always be proud to walk alongside you!"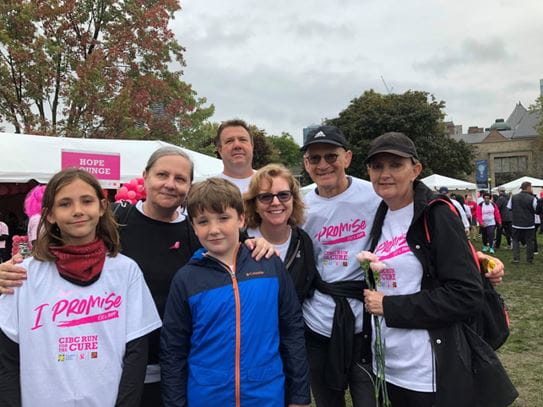 In 2020, Konstance completed her cancer treatments at Credit Valley Hospital.
"All I dreamed of during my breast cancer treatment was to ring the bell on the oncology floor. It was an incredible moment for my family, so of course my twelve-year-old daughter posted it on her TikTok. I hope the flash of relief and positivity I felt that day might find its way to someone else in need of a lift."
Since 1992, the Canadian Cancer Society CIBC Run for the Cure has given hope to Canadians impacted by breast cancer, by raising funds and investing in groundbreaking research, compassionate support services, trusted cancer information and advocacy. Register to help fundraise today, to leave your own mark on the cancer cause and give others the hope of a better tomorrow.