How youth take action to change the future of cancer
Meet Bailey, Precious and Cassidy – 3 young Canadians who are changing the future of cancer through their volunteering and fundraising efforts with the Canadian Cancer Society.
4 min. read
Every day, youth step up, take initiative and drive change on issues that matter to them. Their enthusiasm, passion, and dedication to giving back to their communities serve as proof that you can make a mark on the world at any age.
We find so much inspiration in those who support the cancer cause by giving back in their own unique ways, like Bailey, Precious and Cassidy. Meet these 3 incredible young Canadians and learn how they're helping us change the future of cancer.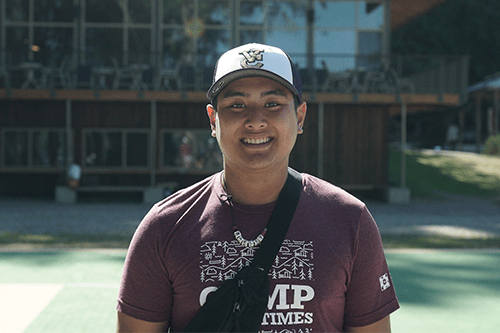 Bailey: Giving back to help others faced with childhood cancer @(Model.HeadingTag)>
When 9-year-old Bailey was diagnosed with leukemia in 2006, it was a difficult time for his family. At Camp Goodtimes – our summer camp program for children affected by cancer and their families – he found a haven where he could connect with other kids who had also experienced cancer.
Now a young adult, Bailey is cancer-free and has been volunteering with Camp Goodtimes for the past 5 years. Last summer, in light of the COVID-19 pandemic, we launched Goodtimes at Home – a virtual version of Camp Goodtimes. Bailey was thankful to still be able to see his campers virtually and provide an unforgettable camp experience, especially during a time when connecting with others was difficult.
"Even virtually, environments like camp are important for kids who need connection to others who know what they're going through," shares Bailey. "Being able to build relationships with other children who have experienced cancer can make a huge impact on a child's life."
For Bailey, the opportunity to help children find connection through camp is part of the reason he returns as a volunteer year after year. As someone who has experienced Camp Goodtimes as a camper himself, he knows just how much of a difference programs like these can make for children affected by cancer and their families.
"I've known some of these kids since they were 12 or 13, and now they're young adults getting ready to go to college," shares Bailey. "It's really special to see how much they've grown because of programs like Camp Goodtimes, and the impact it has had on their lives and their cancer journeys."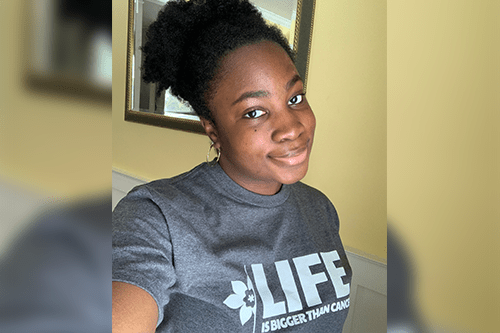 Precious: Making a difference at Relay For Life events @(Model.HeadingTag)>
Every year, the Canadian Cancer Society Relay For Life unites communities and people of all ages to join an unforgettable event that raises funds and awareness to make a difference for those affected by cancer. We love seeing how student leaders, like Precious, help bring this event to life at their schools.
Precious, a student at Western University, first joined Relay For Life through her involvement with student council. It was an opportunity to learn more about the life-changing experiences of people living with cancer and the more she learned about the impact of cancer, the more determined she was to get involved.
Plus, giving back has always been important to her and Relay provided her with the chance to create change for her community, while building her own skills and experiences.
"I think it's important to contribute to the community I live in," says Precious. "Giving back and volunteering has also helped me grow as a person. Also, I've been helped by many volunteers over the course of my life. It's important to me that I show the same love and kindness that I've been shown by other people."
Now, Precious has been a part of Relay for 2 years and was this year's top fundraiser on the Western University Team. She has found so much joy through her participation and encourages others to get involved with Relay however they can – whether it's through fundraising or volunteering.
"Just do it!" she says. "It's a fun experience where you get to meet many new people and give back to your community."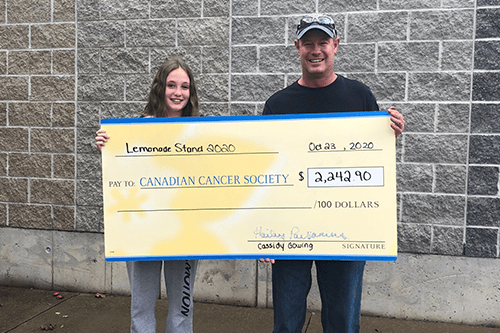 Cassidy: Fundraising in honour of her grandparents @(Model.HeadingTag)>
By 2013, three of Cassidy's grandparents had received a cancer diagnosis. Although she was only 5 years old at the time, Cassidy wanted to find a meaningful way to support her grandparents and give back. With the help of her parents, she started a lemonade stand at their family cottage in Mapleton, Ontario and decided to donate the proceeds to the Canadian Cancer Society.
"When Cassidy's grandparents were diagnosed, cancer became front-of-mind for her because it was very real at that time," shares Cassidy's mom Oriana. "We supported her idea to donate to the Canadian Cancer Society and felt inspired to help her move this idea forward."
The first year, Cassidy raised around $250, but the lemonade stand quickly grew into something much greater. With the support of her family and community, Cassidy has expanded to offer baked goods and other treats – and has raised nearly $16,000 in support of the cancer cause to date!
For others inspired to create their own fundraising event, she encourages them to keep things simple and start small.
"For anyone thinking of starting their own fundraiser, I would start small and go from there," shares Cassidy. "It doesn't matter how much you raise, just know that you are helping someone and making a difference."
---
Seeing the passion that young leaders like Bailey, Precious and Cassidy have for the cancer cause is an inspiration to all of us at the Canadian Cancer Society!
With nearly half of Canadians expected to be diagnosed with cancer in their lifetime, we all have a reason to care and take action. Thanks to our supporters – including an incredibly dedicated community of youth – we can continue to fund groundbreaking cancer research, provide a compassionate support system and shape health policies to prevent cancer and support those living with the disease.
Join Bailey, Precious and Cassidy in making a difference for Canadians across the country. Show your support and help us create a world where no Canadian fears cancer.