Cops for Cancer: The humble beginning of an incredible movement
Police officer shares how head shaves and more Cops for Cancer fundraisers got started.
3 min. read
While he was working his shift as a police officer, Gary Goulet made a stop to visit his sister that would change his life forever. His sister told him about a 5-year-old boy, Lyle, living across the street. Lyle was undergoing chemotherapy treatment and the other children were teasing him because he lost all his hair. This didn't sit well with Gary.
So, with his mother's permission, Gary brought Lyle down to the police station. He gave him a tour and introduced him to his team. At the end of the visit, Gary and Lyle posed for a photo. When the other officers tried to join the photo, Gary (who was already bald) insisted, "Only bald guys in the picture!" And without hesitation, the officers lined up, each ready to have their head shaved in the parking lot of the police station.
"I just wanted to show him it was cool to have no hair," explains Gary. But that's not how this story ends.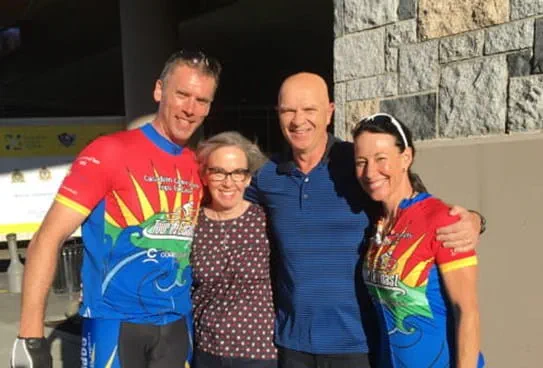 The head shave heard round the country @(Model.HeadingTag)>
As it turns out, the story of the impromptu parking lot head shave made national newspapers across Canada. Readers across the country were touched by Gary's kindness, including a woman named Lorna from Ontario who wrote him a letter. Lorna's daughter was a childhood cancer survivor herself -- and wanted to thank Gary for inspiring other children diagnosed with cancer.
"And in the last line of her letter Lorna said, 'How about a challenge to other police departments as a fundraiser?'" said Gary. "And that's when I thought, maybe she's onto something here?"
So, Gary approached the team at Canadian Cancer Society and told them he wanted to fundraise for cancer research. He began by leaving donation jars at police stations in Edmonton. He didn't expect much, but after the first year, his modest efforts raised $5,000.
Laying the foundation for something great @(Model.HeadingTag)>
Soon, Gary thought he could take his fundraising a step further and decided to begin organizing head shaves at police stations. Through word of mouth and plenty of good press, the head shave fundraisers began popping up across the country and
Cops for Cancer took shape
.
"It allowed police officers to get involved with the public and to support the communities we live in," said Gary. "It lets you see officers in a new light."
And very quickly, people took notice.
"Back in that time, having your head shaved was not very common," explained Gary. "So, when you'd start your shift and 12 other officers arrived with their heads shaved, you began to get recognized in the community as 'those officers supporting cancer.'"
On the line of duty for children @(Model.HeadingTag)>
"In no time at all we became one of Canadian Cancer Society's largest fundraisers," said Gary. "I'm proud of where it's gone and how much money we've raised, but especially proud of the number of kids who have benefited from it."
For over 20 years now, funds raised through Cops for Cancer have been supporting children and families affected by cancer. Donations are used to fund life-saving cancer research and support wonderful programs like Camp Goodtimes, which helps reduce the impact cancer has on families.
"Everybody in some way has been touched by cancer," says Gary. "That's why so many police officers wanted to get involved and show their support."
But over the years, Cops for Cancer evolved into something bigger – and it wasn't just police officers. Today, all forms of first responders across Canada are getting involved in Cops for Cancer, advancing head shaves into annual cycling tours that raise thousands of dollars for childhood cancer each year.
As for Gary, he's retired from the police force, but holds his time as an officer and the man who started Cops for Cancer close to his heart. We thank Gary for all his service – whether on duty or as a humble volunteer. We salute you, Gary!