Hockey teams rally together to make an impact for Canadians with cancer
Learn how two hockey communities are changing the lives of Canadians affected by cancer through Hockey Fights Cancer™ in support of the Canadian Cancer Society.
4 min. read
For some Canadians, hockey is more than just a sport – it's a way of life. Whenever the players hit the ice, coaches and their fans rally together as a team in support of one goal.
Through Hockey Fights Cancer™, that goal is more than winning – it turns into something much more meaningful. Hockey communities from across Canada unite in support of the Canadian Cancer Society. Because they understand that just like in hockey, Canadians living with cancer need support from a team.
Hockey communities uniting for one common goal @(Model.HeadingTag)>
Since 2017, the Canadian Cancer Society has partnered with the National Hockey League and the National Hockey League Players' Association to ensure that no Canadian has to face cancer alone through the Hockey Fights Cancer™ initiative. With an assist from players, coaches, officials, front office staff, corporate partners, fans and supporters, we help people with cancer and their families.
We've seen hundreds of dedicated hockey communities show their support and join us in changing the future of cancer. Meet two of these passionate hockey communities and see how they came together to be a force-for-life in the face of cancer.
Rivals unite in honour of rock band frontman @(Model.HeadingTag)>
When The Tragically Hip frontman, Gord Downie, died from glioblastoma, an aggressive type of brain and spinal cord cancer, the news hit home for many Canadians and inspired some to take action.
Rivaling business and engineering faculties from Queen's University in Kingston, Ontario, came together for Hockey Fights Cancer™, creating their own hockey fundraiser in memory of Downie. Together with other students, they created the first annual 'Cure Cancer Classic' in 2017 to raise funds for the Canadian Cancer Society's brain cancer research.
With each passing year, their games became bigger and the support from the community grew.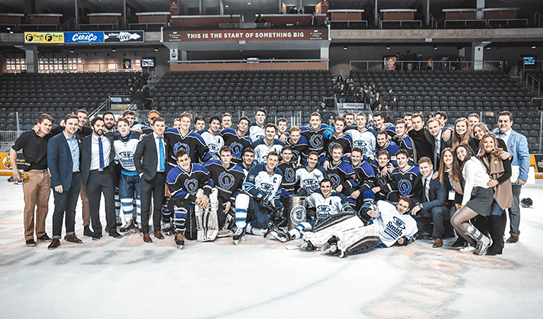 "This year, Tyler, a 14-year-old brain cancer survivor, was introduced to drop the puck," says Matt Leger, Cure Classic Cancer Co-chair. "And alongside him was Paul Langlois, the guitarist of The Tragically Hip, who came out to join him. The arena ignited and roared with support from over 4,200 supporters!"
This year's game raised over $64,000 and with a dollar-for-dollar match from their sponsors, Canadian Tire, that amount doubled to over $128,000!
"In the end, this game was more than just a game. It was the catalyst to bring two rival faculties and their passionate colleagues together for one great cause," says Sean Fraser, Cure Cancer Classic Co-chair.
Hockey team rallies behind beloved coach @(Model.HeadingTag)>
Like the students from Queen's University, a minor hockey league team from Saint John, New Brunswick joined forces to host a Hockey Fights Cancer™ tournament in support of a loved one.

For the Atom A Saint John Flames, it was for their head coach, Justin, whose mother passed away from cancer two years ago.

"We knew that Justin's mom was heavily involved in the hockey community," says Tara, event coordinator. "And I knew that our hockey family would support Justin in a special way to honour his mother."

The Atom A Saint John Flames dedicated one of their games to Hockey Fights Cancer™ and held a pizza sale, silent auction and raffles to raise money. And in just a little over an hour, they were able to raise $2,100!

Inspired by their success last year, they've increased their fundraising goal to $10,000 this year.

"Everyone is touched by cancer in one way or another," says Tara. "For us, our motivation is family. Hockey is far more than a sport, it brings people together like nothing else and it brought our families together."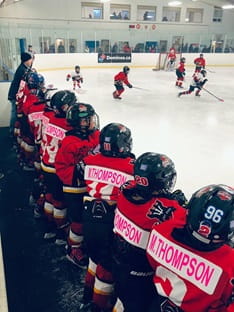 ---
Funds raised through Hockey Fights Cancer™ go towards supporting our lodges that provide a home away from home for those facing out-of-town cancer treatments, a compassionate support system like our online community at
CancerConnection.ca
and transportation services to help ease the burden for patients getting to treatments.
With Hockey Fights Cancer™, we can be there for Canadians affected by cancer when they need us most. Together with the hockey community, we can help improve the quality of life of those living with, going through and moving past cancer.