Hockey fan Mei-Lin Yee faces off against her diagnosis
Hockey Fights Cancer unites hockey fans in support of Canadian Cancer Society and people like Mei-Lin. See how hockey helped her cope during her cancer journey.
2 min. read
Mei-Lin Yee is like millions of Canadians across the country – she's a devoted hockey fan. Naturally, this Montreal native cheers for her home team, the Montreal Canadiens (better known to hockey fans as the Habs). Hockey has been a part of Mei-Lin's life for as long as she can remember, but it wasn't until recently that she realized how important the game can be during the good times and the bad.
In 2009, Mei-Lin went to see her doctor about a lump in her armpit. She'd been experiencing tingling pain, weight loss and a chronic cough. Something didn't feel right. And soon after, she was diagnosed with stage 4 metastatic cancer, which meant the cancer had spread throughout Mei-Lin's body, but her doctor believes it originated as breast cancer.
A near impossible journey ahead @(Model.HeadingTag)>
What happened next is a remarkable feat. To shrink the tumours and kill the cancer that had overrun her body, Mei-Lin endured 174 rounds of chemotherapy, 5 sessions of radiation and underwent 5 different surgeries.
With so many hours spent receiving treatment, Mei-Lin, who has dubbed herself a cancer warrior, turned to a familiar friend whose unwavering support greeted her almost every evening on TV – hockey.
"I was a huge fan of the Montreal Canadiens when I was in treatment," she explains. "Watching them on TV while lying in bed after treatment became a routine."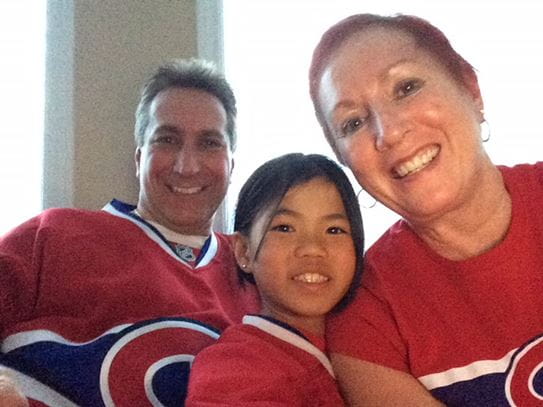 Using her cancer diagnosis for greater good @(Model.HeadingTag)>
Since 2011, Mei-Lin has been an active volunteer and advocate for the Canadian Cancer Society, fundraising for events like Daffodil Month, Relay For Life and CIBC Run for the Cure, and advocating for the rights of patients. When we asked her why she decided to become involved with CCS, Mei-Lin responded:
"To fund research that will help save more lives; to advocate for patient rights; to give back; to fight against all forms of cancer; to thank everyone who has shared their love with patients by giving of their time and energy; to make a difference in someone's life."
Mei-Lin's journey with cancer may be far from over, but she's not letting her cancer suppress her dreams. Today, Mei-Lin has gone back to school and plays an active role in her community and ours here at CCS.
Just like Mei-Lin, you can take your love of hockey and support families living with cancer, too. Give the hockey lover in your life the Gift of an Assist.