Community is bigger than cancer: finding hope at Relay For Life
Learn how cancer survivor and longtime Relay For Life participant Sarah Midea has inspired her community and proven life is bigger than your diagnosis.
3 min. read
If you've ever been to the
Canadian Cancer Society Relay For Life
, you may have took part in a unique feature of many events across the country: staying up all night to walk alongside cancer survivors and other members of the community. For many, this part of the event can be challenging. But for one Relay participant, an all-nighter was a piece of cake.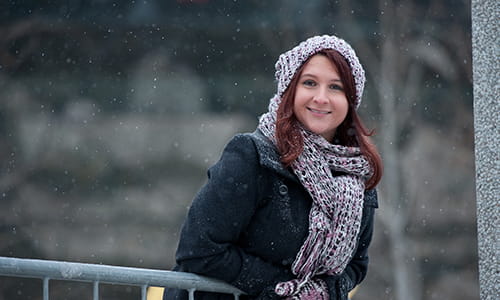 "I had it easy," declares Sarah Midea. "Challenging myself at Relay For Life to stay up all night is nothing compared to the countless challenges cancer patients go through. I do this to support them. To let them know they're not alone."
Sarah is well-aware of the challenges facing those with cancer. A cancer survivor herself, she has been involved with Relay For Life for over a decade, serving as a team captain, volunteer, and in several roles on the event organizing committee.
Sarah's cancer journey began nearly fifteen years ago. As a young adult getting ready to move from Quebec to Ontario, Sarah was only 22 years old when life threw her a curveball – after a regular Pap test, she found out she was in the early stages of cervical cancer.
Sarah credits her Pap test for saving her life.
"I was fortunate – the cancer was caught early and treated quickly," says Sarah. "I want others to know that cancer screening should be taken seriously."
Sarah soon had surgery and began seeing her doctor for monthly biopsies and follow-up exams. Twelve months post-surgery, she learned she was cancer-free. Since then, Sarah has felt a responsibility to share her story and educate others about cancer screening.
Her primary focus on the Relay committee has been advocacy and education, but she's equally driven to keep raising funds for research and support services for people living with cancer, such as transportation to treatment appointments and accommodation at our patient lodges.
"Facing cancer makes you learn to prioritize what really matters in life," recalls Sarah. "The love and support of family and friends is a powerful motivator to keep focused and stay positive through the tough times."
And now, Sarah offers that same motivation to participants at Relay. Since she first became involved in 2008, her father and grandmother have also been diagnosed with cancer – further inspiring her to support those facing cancer in her community.
Last year was a milestone Relay for Sarah at a pivotal moment in her life: she walked the Survivors' Victory Lap for the first time, while six months pregnant. And true to form, she still stayed up all night.
"Thankfully, no one expected me to run laps – but I made it through the entire night!" says Sarah.
Today, Sarah has been cancer-free for 13 years – and now has a seven-month old son. On why she's supported Relay after all these years, Sarah wants to send a simple message to people across the country: that even with cancer, all Canadians have reason to hope.
"It was important to me to show that you can live a full life, that there can be a happy outcome, and that support and early detection increases those odds," Sarah says.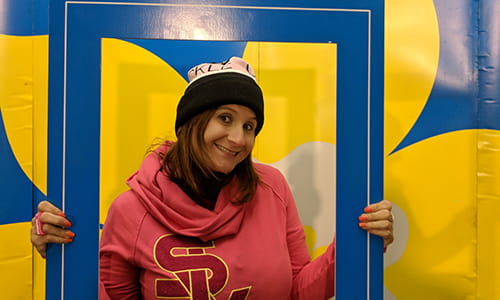 Relay For Life isn't about cancer – it's about people. People who are walking and celebrating and loving with cancer. People like Sarah, who are a powerful example that life is bigger than your diagnosis. Thanks to the support of our dedicated Relay participants, we can show Canadians facing cancer that no matter where you live, your community is behind you every step of the way.
Join us at a Relay For Life near you. With your help, we will show the people we love that together, we are bigger than cancer.