Cancer research advancements provided hope to this dad
Cancer research advancements provided hope to this dad
2 min. read
Denis Dupuis from Québec didn't think he would ever be a father. Not because he didn't want to have kids. He just didn't think it would be possible after he was diagnosed with testicular cancer at 30 years old and had a recurrence of it three years later.
"Dealing with cancer, be it once or several times, is definitely an ordeal, but I never saw my diagnoses as a death sentence," shared Denis. "I had too many things to accomplish, too many dreams to fulfil."
One of those dreams included becoming a father.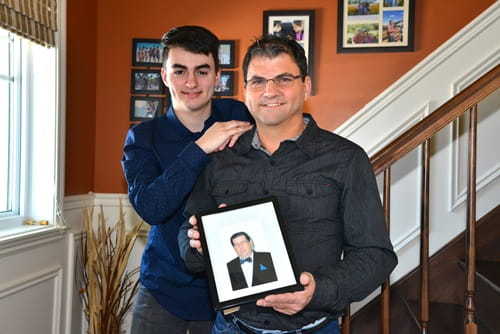 Denis not only overcame testicular cancer twice, but became a dad and sees his son as the greatest joy in his life!
"There's no doubt in my mind, had I been diagnosed with testicular cancer 60 years ago, I wouldn't have experienced fatherhood and my son wouldn't be here today," said Denis. "I survived and became a dad because of breakthroughs in cancer research."
Being a dad means so much to Denis, especially after losing his own father to colorectal cancer.
"I miss him terribly, but I see so much of him in my son. I hope I make him proud of the father he's inspired me to become."
Unfortunately, when Denis was 48 years old and his son was only 12, he was told he had cancer for the third time. This time he faced tonsil cancer.
"My third bout with cancer was the most difficult as I was now a dad. I couldn't imagine leaving my son without a father to watch over him. He definitely motivated me to keep going."
Despite having heard the words, "you have cancer", three times, Denis feels fortunate. He believes that the advances in cancer research and treatments are part of the reason he is still here today.
Every day, supporters help us fund the country's brightest minds doing the most promising research that could change the future of cancer. Progress is being made and advances have helped us understand more about what causes cancer, how it develops, how to prevent it, how best to treat it and how to improve the quality of life of people living with cancer.
You can help us continue to move cancer research forward by giving the Gift of Discovery from CCS Gifts.