A breast cancer survivor shares the impact of Relay For Life
Learn how Relay For Life helped Lianne face her own breast cancer diagnosis and gave her a chance to make a difference for others affected by cancer.
4 min. read
When Lianne attended her first Canadian Cancer Society Relay For Life in 1994, she couldn't have imagined the impact that cancer would have on her – and how meaningful Relay For Life would become – more than 25 years later.
As a community-based fundraising event, Relay For Life provides people – like Lianne – with an opportunity to support Canadians with cancer, celebrate survivors, honour those on their cancer journey and remember the loved ones we've lost.
For Lianne, her initial motivation for taking part in Relay was to honour the memory of her dad who had died of colon cancer. Year after year, Lianne returned to participate in the event – as a volunteer and eventually as captain of her own team – to continue to show her support and remember those in her life who've been affected by cancer. But, when Lianne faced a cancer diagnosis of her own, she found a new reason to Relay.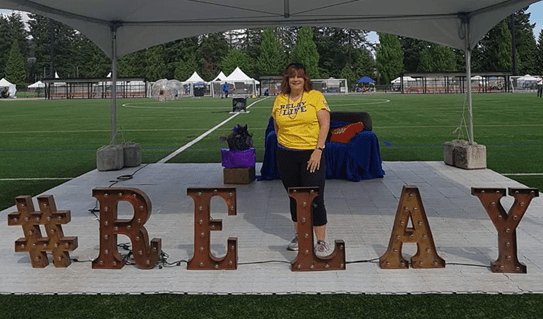 Facing her own diagnosis  @(Model.HeadingTag)>
In September 2010, Lianne received the shocking news that she had an aggressive type of breast cancer. Having already lost her dad to cancer, her diagnosis brought on feelings of anxiety, fear and uncertainty about the future.
Fortunately, Lianne was surrounded by a loving network of family and friends to support her as she underwent surgery, chemotherapy and radiation. She gradually recovered and received the good news that she was cancer-free.
After her experience with cancer, Lianne became more determined than ever to make an impact for others on a similar journey. So, Lianne decided to continue to take part in Relay For Life but for the first time, she donned a yellow t-shirt (given to Relay participants who are living with or beyond cancer) and walked the Survivors' Victory Lap!
"When I attended my 18th Relay, it was as a survivor. I wasn't only walking for those touched by cancer, I was also walking as someone who faced cancer personally," shares Lianne.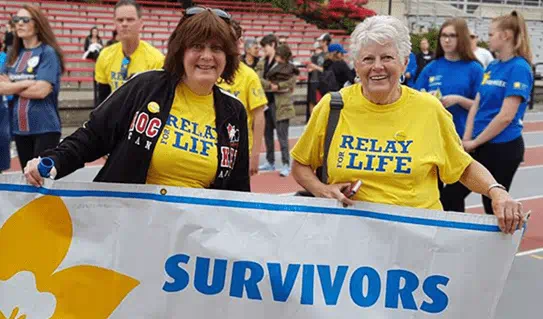 25 years of making a difference @(Model.HeadingTag)>
Every time Lianne returned to Relay, she was reminded of why she first joined – to remember and honour her dad. Throughout her 25 years of participating, it also became a way for her to send a message of hope to those with cancer, support other survivors and help make lasting change for people across the country.
With nearly half of Canadians expected to be diagnosed with cancer in their lifetime, we all know someone whose life has been changed by it. As a survivor, Lianne knows first-hand the impact cancer can have – and how Relay can provide hope and make big difference for those affected by the disease.
"Since I started participating 25 years ago, we've come a long way – but people with cancer still need our support," says Lianne. "It's more important than ever to raise awareness and fundraise so that we can continue making progress and see more participants wearing yellow survivor t-shirts year after year."
A new way to Relay @(Model.HeadingTag)>
Every year, Relay For Life participants come together to make a difference for Canadians affected by cancer – like Lianne. While COVID-19 may have changed our world this year, we can still show our support.
On June 13, 2020, Canadians across the country will unite for Relay At Home – a reimagined way to participate in Relay For Life online. With interactive activities, time to honour survivors and remember those we've lost, this virtual fundraising event will bring communities together like never before.
During the COVID-19 pandemic, people affected by cancer need our support more than ever. Since the outbreak began, there has been significant demand for our live chat services, toll-free Cancer Information Helpline and peer support services, like CancerConnection.ca. These programs help people find community and connection from the comfort and safety of their own home. Funds raised through Relay At Home will help us continue to provide these vital programs and ensure that Canadians affected by cancer get the support they need – now and all year round.
"When communities come together, we can make a huge difference for people affected by cancer. I know from first-hand experience," shares Lianne. "Even though Relay is taking place online this year as Relay At Home, communities can still unite from afar and show support."
Join Relay At Home and help us prove that community is bigger than cancer.